2018 Kz Spree and Sporttrek Touring Models Now Feature Windshields Supplied by Lcis Duncan Systems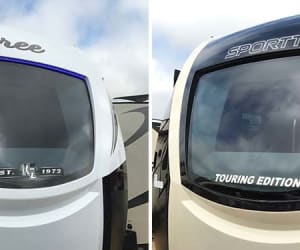 September 18, 2017
Elkhart, Ind. — Lippert Components, Inc. (LCI®) announced today that KZ will offer floorplans on their 2018 Spree and SportTrek Touring models now featuring windshields supplied and installed by Duncan Systems, a subsidiary of Lippert Components.
The windshields featured on these models are manufactured utilizing DOT certified laminated glass and are supplied by Duncan Systems. These frameless windshields are bonded directly to the RV's cap using Dow Automotive BETASEAL urethanes and primers. This application is supported by DOW trained and certified technicians and offers a lifetime warranty on leaks. This is supported by the nation's largest RV glass service network.
"The SportTrek Touring will be featuring a new cap with front window. All nine Touring models were designed with the front window. The front window allows each model a panoramic view from inside the RV. Most models have a lounging window seat for reading and relaxing," commented Dave Boggs, Product Manager at KZ.
"The Spree line-up has been revamped inside and outside to accommodate this popular front windshield. It boasts our great new redesigned front cap that has a nice pocket for the front windshield which features LED light strips," stated Brent Froman, Product Manager at KZ. "Coming later this fall, we will introduce another 2018 model featuring Duncan's front windshield."
KZ will display their revamped line-up and show off the new S333RLF model featuring the front windshield standard.
Duncan Systems has been supplying windshield glass made specifically for RVs for over 25 years. Duncan Systems is America's leading distributor of replacement motorhome and RV windshields, RV side glass, heavy truck glass and specialty vehicle glass.
For more information or to learn more about Duncan Systems' glass capabilities, contact Brent Watson at bwatson@lci1.com
---
From over 140 manufacturing and distribution facilities located throughout North America, Africa and Europe, Lippert™ supplies a broad array of highly engineered components for the leading manufacturers of recreational vehicles, automobiles, watercraft and prefab homes. It also operates in adjacent markets, including hospitality, transportation, construction and agriculture. Lippert™ serves a wide range of aftermarket segments, providing high-quality products for the recreational vehicle / caravanning, automotive and marine industries. With over 12,500 team members and a diverse portfolio of best-in-class brands, Lippert™ adopts a team-based business philosophy and has proven that, by putting people first, the possibilities for growth and development are truly endless.
Lippert
52567 Independence Ct.
Elkhart, IN 46514
Email: marcom@lci1.com