Champion Reiner and Premier Horse Trainer Matt Mills Named Brand Ambassador for CURT® and Ranch Hand®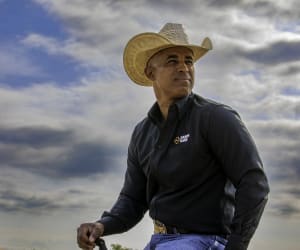 August 19, 2022
Elkhart, Ind. — Lippert Components, Inc. (Lippert™), owner of the Ranch Hand® brand and the parent company of Curt Manufacturing, LLC (CURT®), supplier of a complete line of towing products and a leading manufacturer of USA-made custom-fit trailer hitches, is pleased to announce champion reiner and horse trainer Matt Mills has been named as the brand ambassador for the Ranch Hand and CURT brands. Mills is the premier horse trainer for Bosque Ranch, an equine facility in North Texas and the official filming location for the popular television shows Yellowstone and 1883.
Mills is a fierce competitor and has a resume of impressive accomplishments. He delivered a career-high score of 231.5, qualifying him to be a member of the Team USA that proudly brought home the gold medal from the World Equestrian Games (WEG) in Aachen, Germany. He holds the 2006 United States Equestrian (USEF) Open Reining Championship title. Mills is a National Reining Horse Association (NRHA) Million Dollar Rider and an NRHA Intermediate Open Futurity Reserve Champion. Mills is also known for his appearances on television series, including The Last Cowboy and Yellowstone.
"The trust between a horse and rider requires mutual respect, which is the same relationship I have with CURT and Ranch Hand," said Mills about the partnership. "It is important to me that my values match my partners, and it is clear that both CURT and Ranch Hand invest as much time and effort into their brand and products as I do into my craft. Protection is the most critical component when I am traveling with my horses, my family, and my team. Ranch Hand and CURT are both focused on delivering a safe, durable, and functional product. They are the experts, and I know we are in good company with this partnership."
Mills will again be part of the upcoming RUN FOR A MILLION, created by Taylor Sheridan in 2019, where he will be competing in the $150,000 Open Shootout event to quality for the 2023 RUN FOR A MILLION. He will also be a guest commentator for this year's RUN FOR A MILLION, a four-day event in Las Vegas, Nevada, from August 17 through August 20. Lippert, CURT, and Ranch Hand are also sponsors of the event featuring the talents of the rider and horse in what is known as the most physically and mentally demanding equine sport, reining.
"We are delighted to have Matt Mills on board as not only a brand ambassador, but as a respected professional in the industry," said Jarod Lippert, VP of Marketing & Public Relations for Lippert. "Matt's many accomplishments, his talent, drive, humble nature, and his dedication to his family and community flawlessly align with the CURT and Ranch Hand brands. We are excited to have him on the team."
Lippert, CURT, and Ranch Hand are sponsors of Bosque Ranch, founded by Taylor Sheridan, writer and director of the popular television series Yellowstone and 1883. Bosque Ranch strives to create an experience for the spectator while greatly enhancing opportunities for the riders. The growth in participants since the first Run For A Million is virtually every performance horse discipline has expanded considerably, but the real growth has been in spectator attendance – the NRHA FUTURITY had its largest ever derby attendance in 2021, after having its largest Futurity attendance in 2020. Bosque Ranch will craft the model every other event will strive to surpass.
CURT is a leading manufacturer of USA-made custom-fit trailer hitches. The company also offers a complete line of towing products and accessories, including heavy-duty gooseneck hitches and brake controllers. From in-house testing to an industry-leading dual-coat finish process, to cutting-edge innovations, CURT truly is The First Name in Towing Products®.
Ranch Hand is one of the most legendary American manufacturers of truck bumpers. When truck owners think of front-end protection, they think Ranch Hand. This iconic brand started as a small fabrication shop in south Texas in 1986 and exploded with the popularity of their bumpers, grille guards, and steps. Ranch Hand is synonymous with uncompromising quality and dependable strength.
Both of these exceptional brands – CURT and Ranch Hand – are part of the Lippert house of brands, a global manufacturer and supplier of components, serving the RV, Marine, and Automotive industries and beyond. Lippert is known for its customer-centric focus and winning team culture, aspiring to make business a force for good in the world.
Please visit Bosque Ranch Horse Barn | Lippert (lci1.com) and Matt Mills Reining Horses | Team Matt Mills to learn more about the partnerships.
---
With over 120 manufacturing and distribution facilities located throughout North America and EMEA, Lippert is a leading global manufacturer and supplier of highly engineered components and customized solutions dedicated to shaping, growing and bettering the RV, marine, automotive, commercial vehicle and building products industries and their adjacent markets. Lippert also serves a broad array of aftermarket industries, supplying best-in-class products designed to enhance recreational pursuits, both on the road and on the water. From powerful towing technology and automated RV leveling systems to boating furniture and one-of-a-kind shade solutions, Lippert combines strategic manufacturing capabilities with the power of our winning team culture to deliver unrivaled customer service, award-winning innovation, and premium products to every industry and person we serve.
Lippert
52567 Independence Ct.
Elkhart, IN 46514
Email: marcom@lci1.com