CURT Achieves Monumental 14001 ISO Certification for Environmental Management & Impact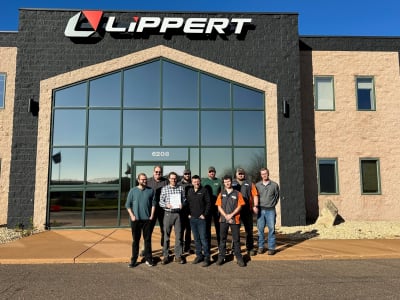 January 11, 2023
Eau Claire, Wisconsin – CURT Manufacturing, LLC (CURT®), a subsidiary of Lippert Components, Inc. (Lippert™) and a leading manufacturer and marketer of USA-made towing products, is leading the charge in the environmental management of its respective manufacturing facilities that produce towing accessories and OEM parts for trucks and SUVs.
Over the course of 2022, CURT voluntarily began the process of achieving the 14001 ISO certification in in order to improve its facilities and become a leading corporate citizen and trusted custodian of the environment.
"CURT is improving processes and implementing changes here in Eau Claire, and our 600 team members are working together diligently to lead the environmental charge in our facilities and respective industry," said Brian Schudiske, Senior Vice President of Operations for Lippert Automotive.
The 14001 ISO certification is a comprehensive set of guidelines and inspections that requires transparency and leadership from manufacturers. It aims to reduce environmental impact by requiring manufacturers to identify the areas of environmental impact that their facilities produce, as well as ways to mitigate their environmental footprint and waste.
The 14001 ISO certification requires a comprehensive effort from all departments and team members, as the certification aims to gain feedback from all levels of the manufacturing process in order to consolidate efforts of all company assets towards improving processes in a myriad of areas.
"The immense amount of effort exerted by CURT and its 600 team members to achieve this certification is a true testament of will and integrity for teamwork and the cause of environmentalism," said Schudiske. "It requires extensive training of all team members and effort from each and every one of them, from the bottom to the top."
The achievement of the 14001 ISO certification is a point of pride for CURT and its team members, as leadership and environmentalism are a part of the organization's core values for improving its community and "leaving no trace behind."
To learn more about CURT Manufacturing and its products, go to curtmfg.com.
About CURT Manufacturing: CURT is a leading manufacturer and marketer of premium towing products. The company offers American-made, custom-fit receiver hitches and wiring harnesses for nearly any vehicle on the road. It also markets a broad range of trailer hitches, towing systems and related accessories. CURT is "The First Name in Towing Products®" for automobile, SUV and truck hitches, as well as RV, gooseneck and commercial towing systems. Products are marketed through retailers, distributors, installers and e-tailers across the U.S. and Canada. CURT employs hundreds of team members, primarily at their manufacturing facility and corporate headquarters located in Eau Claire, Wisconsin. CURT operates 10 regional warehouses throughout the United States and Canada and has been twice named a Wisconsin "Manufacturer of the Year."
---
From over 140 manufacturing and distribution facilities located throughout North America, Africa and Europe, Lippert™ supplies a broad array of highly engineered components for the leading manufacturers of recreational vehicles and prefab homes. It also operates in adjacent markets, including marine, bus, industrial vehicles and trains. Lippert™ also serves a wide range of aftermarket segments, providing high quality products for the caravanning, automotive and marine industries. With over 15,000 team members, and a diverse portfolio of best-in-class brands, Lippert™ adopts a team-based business philosophy and has proven that, by putting people first, the possibilities for growth and development are truly endless.
Lippert
3501 County Road 6 East
Elkhart, IN 46514
Email: marcom@lci1.com