DoubleCOOL by Lippert to Exhibit at Refrigera 2023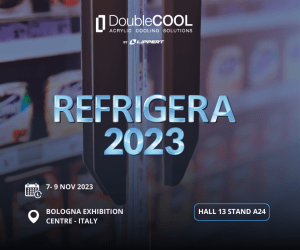 October 17, 2023
Europe — Lippert Components, Inc. (Lippert™), a supplier of a broad array of highly engineered components for the leading original equipment manufacturers ("OEMs") in the recreation and transportation industries and their related aftermarkets, announces today the presence of DoubleCOOL™ by Lippert acrylic cooling solutions at Refrigera 2023, November 7th–9th, in Bologna, Italy.
As an industry-leading specialized partner for cooling cabinet doors, DoubleCOOL by Lippert is poised to showcase their innovative double-pane acrylic doors for refrigerated cabinets. Attendees can expect to get a firsthand look at DoubleCOOL's ZEUS and HERA doorlines.
In addition to having firmly established itself for improving and advancing sustainability initiatives and innovations in commercial retail environments, DoubleCOOL's patented frameless design delivers unmatched transparency, exemplary resistance to high impact and excellent UV stability, thereby setting a new standard for eco-friendly and durable refrigerated door solutions.
"Refrigera 2023 is an excellent opportunity for us to highlight DoubleCOOL's unparalleled features, which embody our commitment to innovation, sustainability and superior quality," said Neville Woodcock, Business Development Manager, DoubleCOOL (EMEA). "We look forward to demonstrating how DoubleCOOL by Lippert is shaping the future of refrigeration technology."
Attendees can find DoubleCOOL by Lippert located in Hall 13, Stand A24.
About Lippert EMEA (Europe, Middle East, Africa)
In 2016, Lippert™ began to focus its attention and resources on the European Caravanning Market, acquiring some of the most successful companies in the industry. Headquartered in Tuscany, Italy, Lippert's manufacturing capabilities include entry door manufacturing and lamination, bed lifts, pop-up roofs for camper vans, slide-outs, table legs, TV brackets, bike carriers, entry steps, blinds and flyscreens. Ever advancing in this market, Lippert has also expanded into the Netherlands by acquiring the Dutch brand Polyplastic, which specializes in vinyl, aluminum and frameless windows. Most recently, Lippert acquired the German brand Schaudt, a manufacturer of power management, battery chargers and electronic control systems. As Lippert expanded into the European Caravanning Market, several strategic acquisitions were made in the Global Rail Industry, creating the Lippert Rail Division and manufacturing glass windows and interior furniture for trains. In the rail sector, Lippert's continued focus is on highly engineered products and extensive research of innovative solutions, offering these products to vehicle owners, operators, manufacturers and refurbishers, industry subcontractors, authorities and organizations. Lippert also made a substantial investment in the Global Marine Market with the acquisition of the Lewmar Limited group of entities, an industry leader in hardware, winches, hydraulics, windlasses, anchors, thrusters, steering systems, hatches and portlights that suit every vessel, from the smallest dayfisher to the largest mega-yacht. 
Contact information:
+31 104461100
---
With over 120 manufacturing and distribution facilities located throughout North America and EMEA, Lippert is a leading global manufacturer and supplier of highly engineered components and customized solutions dedicated to shaping, growing and bettering the RV, marine, automotive, commercial vehicle and building products industries and their adjacent markets. Lippert also serves a broad array of aftermarket industries, supplying best-in-class products designed to enhance recreational pursuits, both on the road and on the water. From powerful towing technology and automated RV leveling systems to boating furniture and one-of-a-kind shade solutions, Lippert combines strategic manufacturing capabilities with the power of our winning team culture to deliver unrivaled customer service, award-winning innovation, and premium products to every industry and person we serve.
Lippert
52567 Independence Ct.
Elkhart, IN 46514
Email: marcom@lci1.com