Flex Air Pin Box by Lippert Components Provides Smooth Enhanced Fifth Wheel Rv Ride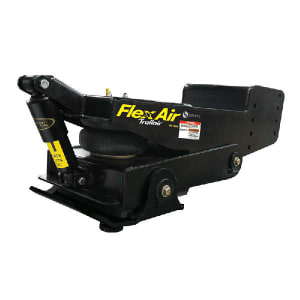 September 23, 2014
Elkhart, Ind. — Lippert Components, Inc. (LCI®) introduces its new Flex Air® Pin Box, which combines LCI's time-tested Trailair® Air Ride technology with its Rota-Flex® pivoting head to significantly reduce fore to aft movement and vertical tug-of-war between a fifth-wheel RV and tow vehicle, providing the user a more comfortable ride.
"RV owners know that towing can be an exhausting experience. Fifth-wheel RVs can really take a lot of abuse from bumpy roads," said LCI Chassis Product Manager Brian Hess. "The Flex Air Pin Box unifies two of the best pin box technologies to provide users with an impressively smooth ride, helping to prevent costly damage that can be caused by road shock and vibrations."
The Flex Air Pin Box was featured in RV Pro for its ability to provide a smooth, enhanced fifth-wheel RV ride. The Flex Air Pin Box utilizes an air bag as a buffer between the tow vehicle and fifth-wheel RV to absorb road shock and vibrations. Its integrated oil shock absorber handles rebound action, dampening kickback and controlling chucking. The Flex Air Pin Box also features a pivoting head in its lower jaw that controls the vertical tug-of-war between the tow vehicle and fifth-wheel RV, and its rubberized compound provides an additional buffer to help protect the fifth-wheel RV from jarring motion.
"Air ride suspension has been standard on most tractor trailers for years and we want fifth-wheel RV owners to enjoy the same benefits," Hess added.  "Most upgrade pin boxes for fifth-wheel RVs only absorb road shock and reduce chucking, but the Flex Air Pin Box does more, also reducing vibrations and controlling vertical push and pull."
The Flex Air Pin Box will be available on OEM brands, through Aftermarket channels and online. Contact LCI Chassis Product Manager Brian Hess at 574-361-5185 or bhess@lci1.com for more information.
---
With over 120 manufacturing and distribution facilities located throughout North America and Europe, Lippert™ is a leading, global manufacturer and supplier of highly engineered components and customized solutions dedicated to shaping, growing, and bettering the RV, marine, automotive, commercial vehicle, and building products industries, and their adjacent markets. Lippert also serves a broad array of aftermarket industries, supplying best-in-class products designed to enhance recreational pursuits, both on the road and on the water. From powerful towing technology and automated RV leveling systems, to boating furniture and one-of-a-kind shade solutions — Lippert combines strategic manufacturing capabilities with the power of our winning team culture to deliver unrivaled Customer Service, award-winning Innovation, and premium Products to every industry and person we serve.
Lippert
3501 County Road 6 East
Elkhart, IN 46514
Email: marcom@lci1.com