Forest River 2017 Rockwood Flagstaff Travel Trailer to Feature Lippert Components Inc Lci Contoured Front Window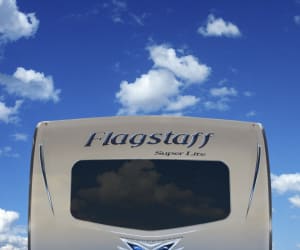 October 3, 2016
Elkhart, Ind. — Lippert Components, Inc. (LCI®) announced today that Forest River's 2017 line of Rockwood Flagstaff travel trailers will feature LCI's contoured front window glass. Forest River's inclusion of LCI's contoured front window glass will mark the world debut of LCI's contoured glass and window framing advancements.
LCI's contoured window glass used on the 2017 Forest River Rockwood Flagstaff travel trailers incorporates process improvements that allows OEMs to utilize more commonly practiced, or industry standardized, installation methods. Instead of using adhesive sealants, LCI has introduced a clamp ring to their contoured glass products that adheres directly to the coach, eliminating glue sealants that many manufacturers do not work with on a regular basis. With the incorporation of more widely used installation methods, LCI's curved glass applications will be quicker and easier.
In addition to more efficient installations, the contoured glass used on the 2017 Rockwood Flagstaff is laminated. The laminated glass uses two pieces of glass and is a similar construction to a windshield on a motorized vehicle, adding safety and strength. LCI's contoured front window glass also features a sleeker, more modern look to the travel trailer line.
---
From over 140 manufacturing and distribution facilities located throughout North America, Africa and Europe, Lippert™ supplies a broad array of highly engineered components for the leading manufacturers of recreational vehicles, automobiles, watercraft and prefab homes. It also operates in adjacent markets, including hospitality, transportation, construction and agriculture. Lippert™ serves a wide range of aftermarket segments, providing high-quality products for the recreational vehicle / caravanning, automotive and marine industries. With over 12,500 team members and a diverse portfolio of best-in-class brands, Lippert™ adopts a team-based business philosophy and has proven that, by putting people first, the possibilities for growth and development are truly endless.
Lippert
52567 Independence Ct.
Elkhart, IN 46514
Email: marcom@lci1.com