Forest River Cedar Creek and Riverstone Adopt Onecontrol Connectanywhere Technology for 2020 Floor Plans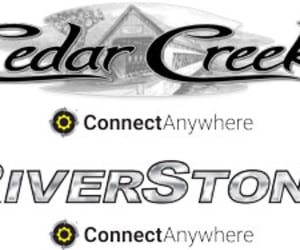 September 20, 2019
Elkhart, Ind. — Lippert Components, Inc. (LCI®) announces today that Forest River has adopted OneControl ConnectAnywhere® smart RV technology for all 2020 Cedar Creek and Riverstone brand units. New 2020 Cedar Creek and Riverstone owners will receive a free Amazon Echo Dot, as well as three free months of data, from Lippert Components.
2020 Forest River Cedar Creek and Riverstone units will feature the robust smart RV technology of OneControl ConnectAnywhere, which allows users to access the internet through a cellular connection. ConnectAnywhere provides an increased signal range, far beyond simple "off-the-shelf" mobile hotspots. ConnectAnywhere incorporates robust cellular technology, which allows owners to control and monitor many of their RV systems from anywhere there is an available cellular signal. Users will be able to control lighting, water tanks, and more, and with the free Amazon Echo Dot, owners can use voice commands to control their RV systems.
"ConnectAnywhere not only gets RVs into the touch pad era, it also allows us to communicate on a platform users are familiar with. The ability to send information directly to the end consumers will enhance the ownership experience. We are very excited to offer OneControl ConnectAnywhere in these units," said Curtis Gunter, General Manager at Forest River.
Every new 2020 Cedar Creek and Riverstone owner will receive a free Amazon Echo Dot featuring Alexa-enabled voice control. These owners will also be able to redeem three free months of cellular data from LCI's wireless data plans. With the Echo Dot, owners can use voice commands to operate their unit's OneControl enabled systems and features.
"Forest River is offering RVers a unique opportunity with the incorporation of OneControl ConnectAnywhere. With the free Amazon Echo Dot, owners can utilize Amazon's Alexa voice-controlled technology to control and monitor lighting, water tanks, and anything they would normally use Alexa for," said Andy Murray, Chief Sales Officer for LCI. Continued Murray, "With three months of free data, we've essentially turned these RVs into a Wi-Fi hotspot so owners can bypass busy campground Wi-Fi. We're excited to offer Forest River's customers this unique feature so they can fully experience and enjoy the connected RV experience."
OneControl ConnectAnywhere technology provides fast and reliable 4G LTE connectivity through OneControl Direct Link Technology. Recent upgrades to LCI's OneControl software platform now allow for push notifications to be sent to the RV owner via the OneControl mobile app, alerting them to maintenance reminders or informing them of RV features they may not be aware of. OneControl also has the ability to report real-time diagnostic information that can help prevent possible maintenance issues, helping improve the customer experience.
For more information, visit www.lci1.com/onecontrol
---
From over 140 manufacturing and distribution facilities located throughout North America, Africa and Europe, Lippert™ supplies a broad array of highly engineered components for the leading manufacturers of recreational vehicles, automobiles, watercraft and prefab homes. It also operates in adjacent markets, including hospitality, transportation, construction and agriculture. Lippert™ serves a wide range of aftermarket segments, providing high-quality products for the recreational vehicle / caravanning, automotive and marine industries. With over 12,500 team members and a diverse portfolio of best-in-class brands, Lippert™ adopts a team-based business philosophy and has proven that, by putting people first, the possibilities for growth and development are truly endless.
Lippert
52567 Independence Ct.
Elkhart, IN 46514
Email: marcom@lci1.com