Forest River Vengeance Toy Haulers Will Prep 2019 Units for Onecontrol Connectanywhere Cellular Technology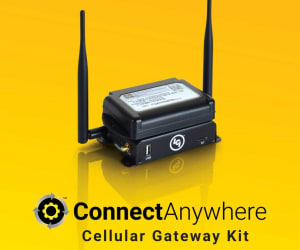 September 21, 2018
Elkhart, Ind. — Lippert Components, Inc. (LCI®) announces that Forest River Vengeance toy haulers will be prepped for easy integration of LCI's OneControl® ConnectAnywhere™ Aftermarket Kit. Vengeance toy haulers will offer consumers the option of upgrading their unit with ConnectAnywhere's enhanced cellular technology and will be on display at the 2018 Elkhart RV Open House, September 24-27.
Vengeance toy haulers will be equipped with LCI's OneControl Wireless technology which broadcasts a local wireless network and allows the owner to control and monitor many functions on the RV. LCI's engineering team worked together with Vengeance to install roof-mounted 4G antennas and easy integration to the current OneControl system. This allows customers the option of a simple aftermarket upgrade to a full cellular system. The OneControl ConnectAnywhere Prepped kit will be first available on LCI's online store and will be arriving later this year at dealerships that sell LCI products.
"OneControl ConnectAnywhere owners enjoy the ability to remotely control and monitor various functions on their RV with their OneControl app virtually anywhere they have a cellular signal, as long as the RV's OneControl system is powered up," said Andy Murray, Chief Sales Officer at LCI. "We're very excited about the enhanced abilities of ConnectAnywhere, and we feel strongly that consumers will want to upgrade their OneControl Wireless units with the more powerful signal that the ConnectAnywhere aftermarket kit will provide."
Customers who purchase and activate the ConnectAnywhere prepped kit will enjoy their own private wireless network, bypassing the commonly unreliable campground Wi-Fi networks. The ConnectAnywhere prepped equipment was engineered and designed to allow multiple devices to be connected to the internet without a sacrifice in connectivity or performance.
New for 2019 is OneControl ConnectAnywhere's ability to offer owners real-time diagnostic information from LCI's customer service center. By granting permission for these services, ConnectAnywhere can alert owners to various issues when they happen, automatically create a service case with customer service, then seamlessly connect them with an LCI customer service representative. This can prevent costly visits from an RV technician, not to mention a delay to the owner's hard-earned vacation. OneControl ConnectAnywhere users will also benefit from upgraded features, such as voice control, powered by Amazon's Alexa.
Introduced under LCI's electronics division, LCI Technologies, OneControl, like most other mobile applications, will be continually upgraded with new and exciting features, enhanced usability, and improved diagnostics tools in the coming months. All OneControl owners will be able to benefit from these improvements by simply updating their OneControl app to the latest version.
For more information, visit www.lci1.com/onecontrol
---
From over 140 manufacturing and distribution facilities located throughout North America, Africa and Europe, Lippert™ supplies a broad array of highly engineered components for the leading manufacturers of recreational vehicles, automobiles, watercraft and prefab homes. It also operates in adjacent markets, including hospitality, transportation, construction and agriculture. Lippert™ serves a wide range of aftermarket segments, providing high-quality products for the recreational vehicle / caravanning, automotive and marine industries. With over 12,500 team members and a diverse portfolio of best-in-class brands, Lippert™ adopts a team-based business philosophy and has proven that, by putting people first, the possibilities for growth and development are truly endless.
Lippert
52567 Independence Ct.
Elkhart, IN 46514
Email: marcom@lci1.com