Grit & Gratitude with Austin Hatch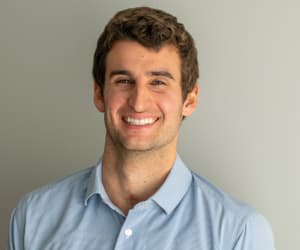 October 28, 2021
Elkhart, Ind. – Local leaders are welcoming a nationally-recognized inspirational speaker to Goshen to share his miraculous story of survival! Austin Hatch is set to take the stage at the Goshen Theater on Thursday, October 28th at 10 am and 2 pm. He'll be speaking to leaders at Lippert.
Hatch is a two-time plane crash survivor. The first tragedy happened in 2003 when Hatch and his family flew home from their vacation home in Northern Michigan. The crash took the lives of his mother, sister, and brother. Years later, the University of Michigan offered Hatch a scholarship to play basketball. Nine days later, he was involved in another crash that took the lives of his father and step-mother. Hatch suffered severe brain injuries and nearly lost his life. After being in a coma for nearly two months, Hatch beat the odds, and went on to attend Michigan to play basketball.
Hatch speaks across the country and has been featured on major TV programs such as ESPN. Leaders at Lippert believe Hatch is a tremendous example of inspiration, perseverance, and strength. The event is another way the company brings its core values to life by empowering current leaders and inspiring the next generation of leaders, with the ultimate goal of using business as a force for good.
---
From over 140 manufacturing and distribution facilities located throughout North America, Africa and Europe, Lippert™ supplies a broad array of highly engineered components for the leading manufacturers of recreational vehicles, automobiles, watercraft and prefab homes. It also operates in adjacent markets, including hospitality, transportation, construction and agriculture. Lippert™ serves a wide range of aftermarket segments, providing high-quality products for the recreational vehicle / caravanning, automotive and marine industries. With over 12,500 team members and a diverse portfolio of best-in-class brands, Lippert™ adopts a team-based business philosophy and has proven that, by putting people first, the possibilities for growth and development are truly endless.
Lippert
52567 Independence Ct.
Elkhart, IN 46514
Email: marcom@lci1.com