Jayco Australia Adopts Sway Command Technology by Lippert Components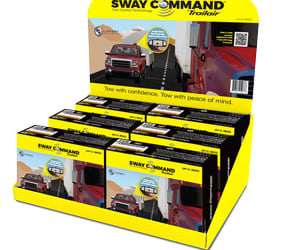 January 22, 2020
Elkhart, Ind. — Lippert Components, Inc. (LCI®) announces today that Jayco Australia has adopted Sway Command® Tow Control Technology across specific 2020 Jayco brand towables. Sway Command® Tow Control Technology electronically detects trailer sway and selectively applies the trailer brakes to suppress unwanted sway.
Ken Miller, Global Sourcing Component Innovation and Technologies Manager of Jayco Australia, says, "Innovation continues to be a key focus for Jayco in 2020, inclusive of its partnership with Lippert Components."
"Jayco Australia is proud to have developed a strong relationship with Lippert Components, beginning with slide-out components many years ago," continued Mr. Miller.
"Innovation in caravanning, especially when it comes to safety, continues to be a driving force for Jayco Australia, and we are excited to see new components, such as Sway Command, fitted to our world-leading RVs launching in February 2020," said Mr. Miller.
"Our OEM partnerships are something we continually strive to enhance. Jayco's adoption of Sway Command is a tribute to the long-standing relationships and product innovations that set us apart from competitors," said Jason Lippert, LCI's CEO.
Sway Command® features advanced patented microprocessor technology that electronically detects trailer sway and applies the trailer brakes to suppress unwanted sway. Utilizing both an accelerometer, which measures lateral force, and a gyroscope sensor, which measures angular velocity, Sway Command® quickly and accurately differentiates between side-to-side and up-and-down movement to prevent false activation and, therefore, does not need to be de-activated in off-road conditions. Most market competitors use only accelerometer technology. Currently, LCI produces over 1 million brakes per year for the global RV industry.
For more information about Jayco Australia please visit: www.jayco.com.au
---
From over 140 manufacturing and distribution facilities located throughout North America, Africa and Europe, Lippert™ supplies a broad array of highly engineered components for the leading manufacturers of recreational vehicles, automobiles, watercraft and prefab homes. It also operates in adjacent markets, including hospitality, transportation, construction and agriculture. Lippert™ serves a wide range of aftermarket segments, providing high-quality products for the recreational vehicle / caravanning, automotive and marine industries. With over 12,500 team members and a diverse portfolio of best-in-class brands, Lippert™ adopts a team-based business philosophy and has proven that, by putting people first, the possibilities for growth and development are truly endless.
Lippert
52567 Independence Ct.
Elkhart, IN 46514
Email: marcom@lci1.com