Lci Notes Significant Market Shift Top Towable Manufacturers Elect to Ditch the Crank and Move to Standard Power Stabilizers on 2020 Models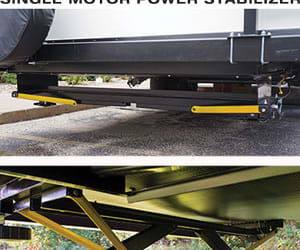 September 17, 2019
Elkhart, Ind. — Lippert Components, Inc. (LCI®) announces today that several of Thor Industries top towable manufactures, including Keystone RV, Dutchmen RV, and Crossroads RV will feature LCI's PSX1® Power Stabilizers, or other electric leveling, standard on all brands starting with the 2020 model year. This will be the first time that any major towable RV brand has eliminated manual crank jack technology from its model lineup.
LCI's PSX1 Power Stabilizers eliminate manual cranking, which is required with the manual crank jacks that have been present in the RV industry for over 50 years. Over time, manual crank jacks become dirty and accumulate rust, eventually becoming difficult to extend and retract. LCI's PSX1 Power Stabilizer utilizes a singular motor that operates the two stabilizer legs independently, meaning when one leg finds the terrain surface, the other leg will automatically adjust to match the other's height.
LCI has extensively updated the PSX1 Power Stabilizer line to support an evolving industry and to help OEM partners eliminate manual stabilization and to provide consumers with timesaving, practical product improvements that enhance the recreational lifestyle. 
"Including power stabilizers as a standard feature is a true game-changer. RVers have been using manual scissor jacks since the birth of our industry. There have been so many innovations in the RV industry since then, but yet here we are, still using manual crank jacks. The auto industry has made similar moves towards power and convenience. For example, consumers would be hard pressed to find a car in today's market that comes with a crank down window. We believe the RV owner deserves better, and more importantly, future RVers will demand better. These three brands are truly leading the industry by putting their end users first, and we're proud to support these industry-wide innovations," commented Jason Lippert, LCI's President and CEO.
In addition to the labor-saving benefits of electronic stabilization, PSX1 Power Stabilizers feature anti-rust, heavy-gauge steel with a durable power coat finish, and a waterproof switch kit. Furthermore, the improved braking system helps prevent side-to-side movement.
"The addition of power stabilizers or leveling across all product lines is a huge benefit for dealers and owners of Keystone, Crossroads, and Dutchmen products. We are excited to continue to lead the industry with features that make camping easier and more accessible for buyers at all price points," stated Jeff Runels, Keystone RV's President and CEO.
For more information on PSX1 Power Stabilizers, visit www.lci1.com
---
From over 140 manufacturing and distribution facilities located throughout North America, Africa and Europe, Lippert™ supplies a broad array of highly engineered components for the leading manufacturers of recreational vehicles, automobiles, watercraft and prefab homes. It also operates in adjacent markets, including hospitality, transportation, construction and agriculture. Lippert™ serves a wide range of aftermarket segments, providing high-quality products for the recreational vehicle / caravanning, automotive and marine industries. With over 12,500 team members and a diverse portfolio of best-in-class brands, Lippert™ adopts a team-based business philosophy and has proven that, by putting people first, the possibilities for growth and development are truly endless.
Lippert
52567 Independence Ct.
Elkhart, IN 46514
Email: marcom@lci1.com