Lippert Acquires Wolfpack, Adding Manufacturing Capacity to Address Dynamic Industry Growth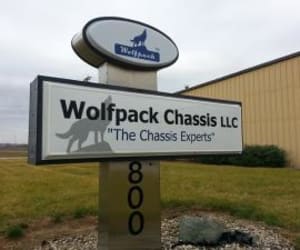 March 25, 2021
Elkhart, Ind. — Lippert Components, Inc. (Lippert™) announces today that it has acquired the assets of Wolfpack Chassis, LLC ("Wolfpack"), a chassis manufacturer in Kendallville, Indiana, to add to its ongoing expansion of chassis production capacity. The demand for increased manufacturing capacity is attributable in large part to the industry seeing tremendous growth in new RV buyers largely due to the COVID-19 pandemic.
The acquisition of Wolfpack is set to help immediately accommodate customer demands with the expansive resources the company will contribute. Wolfpack will supply nearly 60,000 square footage of chassis manufacturing, more than 40 additional team members, and will provide Lippert the ability to immediately increase chassis production to meet the growing industry demand. Lippert is excited to welcome the new team members to its family and is looking forward to having the additional capacity as more RVers enter the market and the demand for RVs increases.
In addition to the acquisition of Wolfpack, Lippert is addressing the continual increase in demand for chassis by adding developments at two of its plants in Indiana. These developments include space for an additional powder coat facility and more chassis fabrication lines in Middlebury, Indiana, and an additional powder coat facility at its Goshen, Indiana chassis complex, which will soon be ready for production.
As the nation is experiencing a renewed interest in the outdoors and RV lifestyle, which is being viewed as a safer way to travel due to the many pandemic concerns, Lippert is responding by right-sizing its capacity footprint. "These moves are important for Lippert to meet the demands of our customers and overall industry growth," said Ryan Smith, President of Lippert North American OEM Operations. Smith continued, "These strategic steps are the first of several very intentional investments we will make to support this rapid growth and to invest in the future of all the industries we serve."
Chuck Bell, Vice President of Chassis Operations, commented, "As an industry leader in towable chassis, this incremental production capacity shows our commitment to meeting the demand of this very important product line for our industry. I thank our operations teams who have done an amazing job of reacting to a rapidly changing environment and are moving swiftly to meet demands on capacity and innovation."
---
From over 140 manufacturing and distribution facilities located throughout North America, Africa and Europe, Lippert™ supplies a broad array of highly engineered components for the leading manufacturers of recreational vehicles, automobiles, watercraft and prefab homes. It also operates in adjacent markets, including hospitality, transportation, construction and agriculture. Lippert™ serves a wide range of aftermarket segments, providing high-quality products for the recreational vehicle / caravanning, automotive and marine industries. With over 12,500 team members and a diverse portfolio of best-in-class brands, Lippert™ adopts a team-based business philosophy and has proven that, by putting people first, the possibilities for growth and development are truly endless.
Lippert
52567 Independence Ct.
Elkhart, IN 46514
Email: marcom@lci1.com