Lippert Announces Partnership with Bosque Ranch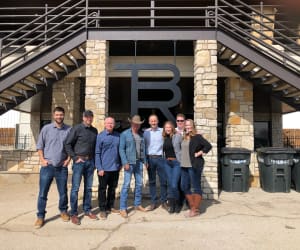 August 8, 2022
Elkhart, Ind. — Lippert Components, Inc.(Lippert™), owner of the Ranch Hand® brand and the parent company of Curt Manufacturing, LLC (CURT®), supplier of a complete line of towing products and a leading manufacturer of USA-made custom-fit trailer hitches, is pleased to announce its sponsorship of Bosque Ranch, a 1,000-acre complex located in Weatherford, Texas.
Bosque Ranch, the premiere equine facility in North Texas, home of the NCHA Brazos Bash, the training center of NCHA Million Dollar rider Geoffrey Sheehan, 2018 NRCHA World's Greatest Horseman rider Kelby Phillips, and NRHA million-dollar rider Matt Mills, and filming location for Yellowstone, 1883, and more.
"The recession that began in 2008 highlighted the great flaw of the performance horse industry — it is a participant-driven sport centered around aged events for horses, which essentially means — the horse's show career is over when it turns seven. These two factors: a sport designed for the benefit of the professional rider and limiting the major events to horses ages 3-6, participation in these events began shrinking. My goal with Bosque Ranch is to create an experience for the spectator while greatly enhancing the opportunities for the riders. In my 'other' job, I am a star maker and a career reviver. I will do the same thing in this space — I will make stars of the horses and stars of the riders. I will continue to attract new participants to these various disciplines, but more importantly, I will continue creating an experience that captivates an audience." -Taylor Sheridan, owner.
Founded in 1986 in Texas, Ranch Hand pioneered the heavy-duty truck accessory market by being one of the first manufacturers that designed and engineered custom equipment specifically matched to the owners' vehicles. Its grille and bumper guards, constructed from heavy 12-gauge steel tubing, and four-point mounting systems for maximum stability, are known throughout the industry as premium accessories designed with durability as the primary goal. With Ranch Hand's strong heritage and unwavering support of the ranching lifestyle, partnering with Bosque Ranch was a perfect fit to help continue to tell its story and support the community.
CURT offers a complete line of towing products and has been a leading manufacturer of USA-made custom-fit trailer hitches since 1993. Its broad range of gooseneck hitches feature towing capacities up to an impressive 38,000 lbs. and are SAE tested for unparalleled strength and durability. CURT products are designed for the long haul for today's hardworking ranchers.
"Protection, strength, and durability are all vital qualities to consider when purchasing equipment for your vehicle." said Jarod Lippert, Vice President of Marketing. "Our partnership with Bosque Ranch is a perfect fit for these brands, and we are excited to leverage them in order to help tell the story of how Ranch Hand and CURT are the best choices when it comes to protecting what matters most."
For more information about Bosque Ranch, visit https://bosqueranchheadquarters.org or Bosque Ranch Horse Barn | Lippert
---
From over 140 manufacturing and distribution facilities located throughout North America, Africa and Europe, Lippert™ supplies a broad array of highly engineered components for the leading manufacturers of recreational vehicles, automobiles, watercraft and prefab homes. It also operates in adjacent markets, including hospitality, transportation, construction and agriculture. Lippert™ serves a wide range of aftermarket segments, providing high-quality products for the recreational vehicle / caravanning, automotive and marine industries. With over 12,500 team members and a diverse portfolio of best-in-class brands, Lippert™ adopts a team-based business philosophy and has proven that, by putting people first, the possibilities for growth and development are truly endless.
Lippert
52567 Independence Ct.
Elkhart, IN 46514
Email: marcom@lci1.com