Lippert Announces seRV With Purpose Platform for RVers Seeking Volunteer Opportunities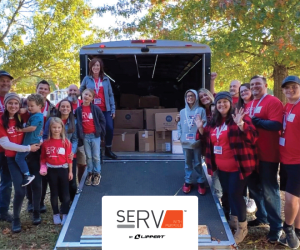 November 8, 2022
Elkhart, Ind. — Lippert Components, Inc. (Lippert™), a supplier of a broad array of highly engineered components for the leading original equipment manufacturers ("OEMs") in the recreation and transportation product markets, and the related aftermarkets of those industries, announces its seRV With Purpose platform, an all-encompassing platform that provides a roadmap for travelers seeking meaningful experiences that make a positive impact on the places they visit.
The seRV platform will feature volunteer opportunities at RV travel destinations around the United States, organized by Lippert seRV Ambassador families that have committed to hosting 10 events each year. Over the last year, Lippert has had the extreme privilege of piloting this program alongside two families who have already been leading with servant hearts, the Conlons of Paws For Love and the Nickersons of Finding Our Someday.
"During last year's Getaway, we were fortunate enough to have really impactful conversations with attendees expressing interest in finding ways to give back to the communities they visit while RVing. This inspired us to focus on how we can support the adventuring with purpose movement," said Michilah Grimes, Director of Corporate and Community Impact at Lippert. "We are so excited to see the incredible impact seRV With Purpose has on communities across the nation."
In addition to the opportunity to join seRV Ambassadors in adventuring with purpose, the platform will provide a list of pre-vetted non-profits perfect for RVers who feel called to purpose driven travel. The list of pre-vetted non-profits will answer questions like, "Do we need to call head?", "Is there RV parking available on-site?", "Are children able to volunteer at this location?".
Set to be released in 2023, the seRV platform was first announced at Lippert's 2022 Getaway, a six-day invitational for members of Lippert's consumer-focus group, the "Lippert Scouts". Attendees took part in various activities around the resort, like technical seminars, lifestyle panels, workshops, shopping and nightly entertainment.
Most importantly, to kick off the seRV launch, Getaway attendees and Lippert team members took part in two successful volunteer events. The first event saw approximately 150 volunteers pack 1,200 bags full of essential items that were then donated to the Boys & Girls Club of the Chattahoochee Valley. Each bag had 10 essential items that will be donated to Club families at their annual Thanksgiving dinner, where families are invited into the Club and served a meal. This year marks the return of the event since the Covid-19 pandemic began.
The second event rallied approximately 100 RVers and Lippert team members off-site at the Franklin D. Roosevelt State Park in Pine Mountain, GA. From basic trail clearing and cleanup to the removal of larger branches and the installation of a water bar where rising water had eroded trails, volunteers worked together to revitalize the park's trail system.
"Social responsibility has been one of our core objectives for many years. Since 2017, Lippert employees and their families have amassed more than 600,000 hours of volunteer work, forever changing countless lives. If one company can make such a huge impact, imagine the change that could be brought forth by the entire RV community," said Jason Lippert, President and CEO of Lippert.
---
From over 140 manufacturing and distribution facilities located throughout North America, Africa and Europe, Lippert™ supplies a broad array of highly engineered components for the leading manufacturers of recreational vehicles, automobiles, watercraft and prefab homes. It also operates in adjacent markets, including hospitality, transportation, construction and agriculture. Lippert™ serves a wide range of aftermarket segments, providing high-quality products for the recreational vehicle / caravanning, automotive and marine industries. With over 12,500 team members and a diverse portfolio of best-in-class brands, Lippert™ adopts a team-based business philosophy and has proven that, by putting people first, the possibilities for growth and development are truly endless.
Lippert
52567 Independence Ct.
Elkhart, IN 46514
Email: marcom@lci1.com