Lippert Components Aims to Transform the Rv and Camping Experience With Digital Tech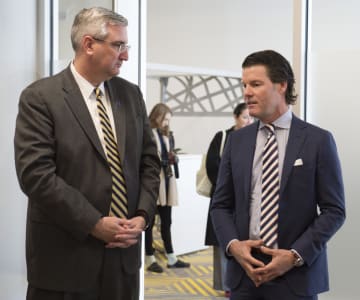 March 15, 2017
Elkhart, Ind. — Lippert Components, Inc. (LCI®), a leading supplier of components to the recreational vehicle (RV) industry, has announced a series of digitally-inspired initiatives that aim to improve camping and RV experiences. Indiana Governor Eric Holcomb recently visited LCI's Digital Innovation Department, located in Ignition Park in South Bend, Indiana, to discuss LCI's technology initiatives. LCI's Digital Innovation Department is charged with one task: to increase customer satisfaction by leveraging the latest technological advances and digital innovations.
LCI's Digital Innovation Department, led by Director Michael Rupchock, is comprised of dedicated staff and passionate stakeholders from various internal departments who work to identify the latest digital technology opportunities and analyze their potential use within the Company, as well as for practical use for the RV and camping lifestyle. The powerhouse team is essentially an internal startup that analyzes and tests technologies that could be beneficial for RVers, campers, and the RV industry.
In addition to the formation of the Digital Innovation Department, LCI already has several departments in place that specialize in technical applications and electronically-controlled products and programs. Now a company with international operations and employing more than 8,000 team members, LCI's various divisions and departments are embracing digital tech to improve existing processes and products and to develop fresh alternatives to industry standards. LCI's Automation team is using technology and automation to improve efficiencies within the Company's many plants. "We've made significant investments into the integration and automation of our operations. To a certain extent, these efficiencies have all been made possible because of the technical infrastructure we've laid down," said Scott Mereness, President of LCI.
"The location of our electronics division has been instrumental to our technology advancements. We've been able to tap into the innovation and talent of the automotive industry in Detroit and that's proven to be a huge advantage to the features and compatibility options of the recreational vehicle products we manufacture. In turn, it's helped propel our growth," said Rob Ford, Vice President of Electronics at LCI.
The Company has implemented PLM software that effortlessly integrates product data with other business processes. Similarly, IDS, LCI's electronics division, is dedicated entirely to the development of electronically-controlled RV and camping products and has produced a number of industry-first, digitally-operated products. Additionally, LCI's Vice President of Customer Support Services, April Klein, and the customer support team have been partnering with Salesforce, a cloud computing company, to improve customer experiences at every stage in their journey.
"We're exploring some really inventive concepts that we're very excited about. Along with all of our internal efforts, our partnerships with tech-savvy businesses like Salesforce have enabled us to create unique solutions to industry-wide problems," commented Jamie Schnur, LCI's Chief Administrative Officer.
Most recently, LCI has been challenging established industry products and processes with the introduction of several digitally-operated products. Ground Control® 3.0 and Ground Control® TT, products that automate the previously manual process of leveling a fifth-wheel trailer or travel trailer, respectively, have been met with excitement by consumers and younger generations, new to the RV and camping lifestyle. Similarly, OneControl® is another of the Company's digitally-progressive products. The software, operated with a mobile app, allows users the advantage of controlling and monitoring their trailer's operating systems from the palm of their hand, all but eliminating tired processes requiring physical exertion and RV-know-how.
"We're very proud of the advancements were making. We are focused on integrating technology into all aspects of the RV experience. Because we manufacture so many of the products used in RVs, we're in a unique position to integrate technology and push for digital advancements throughout the industry, and that's exactly what were focused on," stated Jason Lippert, Chief Executive Officer of LCI.
For more information, visit www.lippertcomponents.com
---
With over 90 manufacturing and distribution facilities located throughout North America, Europe, Africa, and Asia, Lippert™ is a leading, global manufacturer and supplier of highly engineered products and customized solutions dedicated to shaping, growing, and bettering the RV, marine, automotive, commercial vehicle, and building products industries, and their adjacent markets. Lippert also serves a broad array of aftermarket segments, supplying best-in-class products designed to enhance recreational pursuits, both on the road and on the water. From powerful towing technology and automated RV leveling systems, to boating furniture and one-of-a-kind shade solutions — Lippert combines strategic manufacturing capabilities with the power of our winning team culture to deliver unrivaled Customer Service, award-winning Innovation, and premium Products to every industry and person we serve.
Lippert
3501 County Road 6 East
Elkhart, IN 46514
Email: marcom@lci1.com