Lippert Components and Reg Byron Chartier to Take Quality Program to Next Level as Vice President of Quality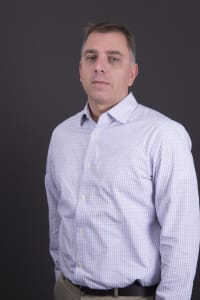 October 30, 2013
ELKHART, Ind. — Lippert Components, Inc. (LCI®) announces that Byron Chartier has been promoted to Vice President of Quality. Building off of 10 years of leadership experience at LCI, Chartier will work with the Research and Development and management teams from each facility to maintain and fortify best practices based on customer needs, as well as promote consistent quality along every product line.
"Byron will be instrumental in further strengthening the quality of our operations," said LCI Chief Operations Officer Todd Driver. "His vision, experience and commitment will allow him to build a quality program that promotes best practices across all of our operations and allow us to continue to provide superior products to the industries we serve."
Chief Executive Officer Jason Lippert believes Chartier will help lead LCI's quality program to further growth in his new role. "Byron has been key in advancing our quality program to where it is today. We are allocating even more resources to promote quality, allowing Byron to recruit and align teams in his new role to further strengthen our commitment to quality."
Chartier expressed pride in his new role, "I am grateful and proud to be part of the LCI team that is dedicated to the needs of its customers, employees and the community. We have excellent employees at all levels, which is critical to building a quality operation and to our overall success."
---
With over 120 manufacturing and distribution facilities located throughout North America and Europe, Lippert™ is a leading, global manufacturer and supplier of highly engineered components and customized solutions dedicated to shaping, growing, and bettering the RV, marine, automotive, commercial vehicle, and building products industries, and their adjacent markets. Lippert also serves a broad array of aftermarket industries, supplying best-in-class products designed to enhance recreational pursuits, both on the road and on the water. From powerful towing technology and automated RV leveling systems, to boating furniture and one-of-a-kind shade solutions — Lippert combines strategic manufacturing capabilities with the power of our winning team culture to deliver unrivaled Customer Service, award-winning Innovation, and premium Products to every industry and person we serve.
Lippert
3501 County Road 6 East
Elkhart, IN 46514
Email: marcom@lci1.com