Lippert Components and Reg Partners With Hsm to Provide Customers With Manual Rv Steps Manufactured in the Usa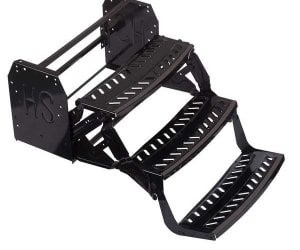 October 17, 2013
ELKHART, Ind. — Lippert Components, Inc. (LCI®) is pleased to announce it is partnering with HSM to provide OEM customers with top-quality American-made RV entry steps manufactured by HSM.
"We are committed to providing the best product to our customers and bringing jobs back to the U.S.," said LCI Chief Executive Officer Jason Lippert. "HSM builds great steps, and we're excited to distribute their newest design, which is more rugged than the traditional step."
LCI will replace its current manual step products with the steel single, double, triple and quad steps manufactured by HSM in America. The relationship brings products closer to existing HSM customers and allows LCI to provide customers with more comprehensive support.
HSM Vice President of Corporate Sales David Duncan is pleased with the arrangement and anticipates the addition of 30 new employees as a result of increased production. "We're excited to team up with LCI and the opportunity it provides to bring our durable American-made steps to a wider customer base. LCI is a trusted RV components supplier, and working with them will broaden our distribution capabilities, improve efficiencies, and allow us to better support both existing and new customers."
Tony Everett, HSM Vice President Transportation solutions, agrees. "Our agreement with LCI further enhances our ability to deliver integrated solutions to an expanding customer base, which will be especially important as we grow our U.S.-based manufacturing operations and bring new products to market."
LCI Vice President of RV Sales Andy Murray says the transition is going smoothly. "Our customers are happy because we're supplying a premier step brand, and HSM customers are pleased we will have their product warehoused nearby in Elkhart County."
LCI will continue to manufacture a wide array of manual and motorized steps, including its Tread Lite® Aluminum Entry Step and its Coachstep® Motorized Entry Step. LCI will also debut two new steps at the upcoming RVIA show in Louisville.
---
With over 120 manufacturing and distribution facilities located throughout North America and EMEA, Lippert is a leading global manufacturer and supplier of highly engineered components and customized solutions dedicated to shaping, growing and bettering the RV, marine, automotive, commercial vehicle and building products industries and their adjacent markets. Lippert also serves a broad array of aftermarket industries, supplying best-in-class products designed to enhance recreational pursuits, both on the road and on the water. From powerful towing technology and automated RV leveling systems to boating furniture and one-of-a-kind shade solutions, Lippert combines strategic manufacturing capabilities with the power of our winning team culture to deliver unrivaled customer service, award-winning innovation, and premium products to every industry and person we serve.
Lippert
52567 Independence Ct.
Elkhart, IN 46514
Email: marcom@lci1.com