Lippert Components and Tredit Tire and Wheel Company Team Up to Bring Rv Industry Tire Linc Tire Pressure Monitoring System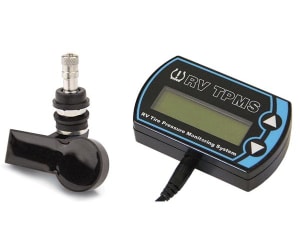 October 1, 2014
ELKHART, Ind. — Lippert Components, Inc. (LCI®) is pleased to announce Tredit Tire & Wheel Company Inc. will supply the RV industry with tires featuring LCI's Tire Linc™ Tire Pressure Monitoring System (TPMS).
"To date, there have been many attempts with TPMS that were 'borrowed' from automotive, light truck and commercial applications, but Tire Linc TPMS was specifically engineered for RVs," said Andrew Wuescher, Tredit Tire and Wheel Company Vice President of Sales. "Air pressure is critical to RV tire safety. Tires derive their carrying capacity directly from air pressure, and variations as little as 5PSI can impact load capacity significantly. Using the information provided by Tire Linc can result in longer-lasting tires, reduced warranty rates, and, we believe, an improved RV experience."
Starcraft RV, the first RV OEM to benefit from the arrangement, is featuring Tredit tires with Tire Linc on five 2015 RV brands including Launch Ultra Lite, Autumn Ridge and Travel Star travel trailers; and Travel Star and Solstice fifth-wheels. "Tire Linc is a wonderful safety feature and we believe it will give our customers peace of mind while traveling with family and friends," said Brent Froman, Vice President of Sales at Starcraft RV. "Not only does the Tire Linc system promote safety, it's also very easy to use."
Tire Linc is an electronic system designed specifically for RVs to monitor the air pressure and temperature inside the tires, reporting real-time tire-pressure information to the driver via a gauge. The Tire Linc transmitter warns a driver if pressure or temperature fluctuates rapidly, indicating possibly dangerous tire conditions. Tire Linc can be synchronized before or after an OEM has installed tires, while other TPMS systems must be tracked and kept grouped with their respective tires during the production process.
LCI Vice President of RV Sales Andy Murray explained that safety is one of LCI's top priorities. "Tire pressure monitoring systems became mandatory for the automotive industry in 2008, and we believe RV tire safety is just as important," said Murray. "We're excited to partner with Tredit Tire and pleased to see Starcraft leading the way in RV tire safety by implementing the Tire Linc TPMS."
Contact LCI Chassis Product Manager Brian Hess at 574-361-5185 or bhess@lci1.com for more information about Tire Linc TPMS.
---
With over 120 manufacturing and distribution facilities located throughout North America and EMEA, Lippert is a leading global manufacturer and supplier of highly engineered components and customized solutions dedicated to shaping, growing and bettering the RV, marine, automotive, commercial vehicle and building products industries and their adjacent markets. Lippert also serves a broad array of aftermarket industries, supplying best-in-class products designed to enhance recreational pursuits, both on the road and on the water. From powerful towing technology and automated RV leveling systems to boating furniture and one-of-a-kind shade solutions, Lippert combines strategic manufacturing capabilities with the power of our winning team culture to deliver unrivaled customer service, award-winning innovation, and premium products to every industry and person we serve.
Lippert
52567 Independence Ct.
Elkhart, IN 46514
Email: marcom@lci1.com