Lippert Components Announces Custom Glass Printing Capabilities for Rv Kitchen Backsplashes and Other Applications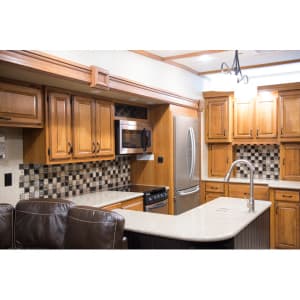 September 15, 2014
ELKHART, Ind. — Lippert Components, Inc. (LCI®) announced today the introduction of custom glass printing capabilities, and will debut custom printed glass kitchen backsplashes on the 2015 Jayco Starcraft and Evergreen Lifestyle during RV Open House Week in Elkhart, IN from September 16–18.
"We purchased our specialized glass printer in order to prototype new frameless window designs swiftly and more efficiently move them into full production to improve customer service," said Josh Roan, LCI Vice President of RV Windows. "We quickly found we could do so much more. We can print realistic replications of marble, ceramic tiles and more on glass providing classic styles, but with a significantly shortened installation time."
LCI Vice President of RV Sales Andy Murray added that the printer permanently etches ceramic ink into the glass during the tempering process, delivering a durable surface with very high resolution print quality. "Printed glass backsplashes and decorative accents are lighter and much easier to clean than other materials like heavy ceramic tiles," said Murray. "Not only do we see a wide range of RV applications for this process, but we also believe custom glass printing has potential in manufactured housing and other adjacent markets."
The LCI Engineering team has been working with customers on various applications and sees opportunities for additional custom glass printing product lines across the industries it serves. LCI Engineer Jim Schoeffler explained, "We've barely scratched the surface on possible applications for custom glass printing for RV interiors and exteriors. Our customers have broadened our scope of product ideas, and we expect the pool of creativity will continue to grow in all the industries we serve," said Schoeffler.
Contact Jim Schoeffler at 574-312-7591 or jschoeffler@lci1.com for more information.
---
From over 140 manufacturing and distribution facilities located throughout North America, Africa and Europe, Lippert™ supplies a broad array of highly engineered components for the leading manufacturers of recreational vehicles and prefab homes. It also operates in adjacent markets, including marine, bus, industrial vehicles and trains. Lippert™ also serves a wide range of aftermarket segments, providing high quality products for the caravanning, automotive and marine industries. With over 15,000 team members, and a diverse portfolio of best-in-class brands, Lippert™ adopts a team-based business philosophy and has proven that, by putting people first, the possibilities for growth and development are truly endless.
Lippert
52567 Independence Ct.
Elkhart, IN 46514
Email: marcom@lci1.com