Lippert Components Announces Custom Manufacturing Capabilities at Howe Frame Plant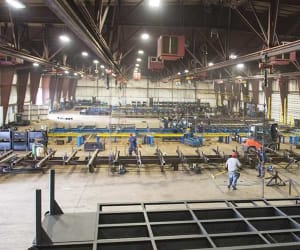 May 20, 2014
ELKHART, Ind. — Lippert Components, Inc. (LCI®) announced today its Howe, Indiana, plant has custom manufacturing capabilities. In addition to manufactured housing and park model frames, LCI's Howe Plant produces custom steel shipping racks, stationary racks, toter trailers, skid and drag frames, modular carriers and similar products, and is ready to take new orders.
"Our Howe Plant team has been making its own steel storage racks and tubs and taking on various custom projects from existing customers," said Chuck Bell, LCI Vice President of Chassis Operations. "Customers come to us with challenges and we work with them to design and build what they need."
Plant Manager Jeff Holsinger is confident his experienced team can design and build nearly any unique frame, rack or trailer in the 56,000-square-foot plant in Howe. "We just finished manufacturing a custom set of 480-foot reusable shipping skids for a large local manufacturer," said Holsinger. "We receive a lot of business by word-of-mouth because our customers are vocal about the quality custom work we do."
---
From over 140 manufacturing and distribution facilities located throughout North America, Africa and Europe, Lippert™ supplies a broad array of highly engineered components for the leading manufacturers of recreational vehicles, automobiles, watercraft and prefab homes. It also operates in adjacent markets, including hospitality, transportation, construction and agriculture. Lippert™ serves a wide range of aftermarket segments, providing high-quality products for the recreational vehicle / caravanning, automotive and marine industries. With over 12,500 team members and a diverse portfolio of best-in-class brands, Lippert™ adopts a team-based business philosophy and has proven that, by putting people first, the possibilities for growth and development are truly endless.
Lippert
52567 Independence Ct.
Elkhart, IN 46514
Email: marcom@lci1.com