Lippert Components Announces R and D and Vave Chassis Teams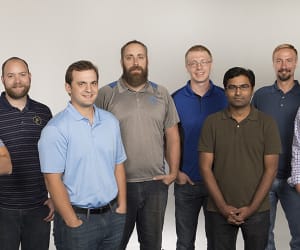 August 29, 2017
Elkhart, Ind. — Lippert Components, Inc. (LCI®) announces that the Company's chassis division has formed two new teams, the Research & Development Chassis Team and the VAVE (Value Analysis, Value Engineered) Chassis Team. While the chassis division has been operating the two divisional teams since 2015, with proper infrastructure and leadership now in place, the Company is officially announcing the sub-teams. The teams will continue to work together within the chassis division but will focus on individual projects and operational improvements.
The R&D Chassis Team is focused on the continuous evolution of the RV towable chassis product line and is using innovative, forward-thinking to improve the quality, consistency, and overall public perception of their products. The R&D Chassis Team is structured to work hand in hand with OEM's throughout every facet of a project until completion. To date, the R&D team has successfully launched many component and process improvements that are being utilized throughout the industry today.
To learn more or contact LCI's R&D Chassis Team, email Trenton Miller at tmiller1@lci1.com.
LCI's VAVE Team, or Value Analysis, Value Engineered, is concentrating on several objectives including: chassis cost savings, optimization of chassis designs, improvement of manufacturing processes, evaluation of structural questions and/or concerns, OEM partnerships for the creation of new chassis designs, and the overall maintenance and expansion of structural guidelines. The VAVE team utilizes FEA testing along with physical testing to assist with OEM design validation.
To learn more or contact LCI's VAVE Chassis Team, email TJ Brubaker at tbrubaker@lci1.com.
"LCI offers these services and is shifting certain focuses to allow for more of a consultant relationship with OEMs, as opposed to simply being a product vendor. Both of these chassis teams offer great value to our customers, and we're excited to officially launch the sub-teams to our OEM partners as a resource," said Chuck Bell, LCI's VP of Operations, Chassis.
For more information, visit us at www.lippertcomponents.com
---
From over 140 manufacturing and distribution facilities located throughout North America, Africa and Europe, Lippert™ supplies a broad array of highly engineered components for the leading manufacturers of recreational vehicles, automobiles, watercraft and prefab homes. It also operates in adjacent markets, including hospitality, transportation, construction and agriculture. Lippert™ serves a wide range of aftermarket segments, providing high-quality products for the recreational vehicle / caravanning, automotive and marine industries. With over 12,500 team members and a diverse portfolio of best-in-class brands, Lippert™ adopts a team-based business philosophy and has proven that, by putting people first, the possibilities for growth and development are truly endless.
Lippert
52567 Independence Ct.
Elkhart, IN 46514
Email: marcom@lci1.com