Lippert Components' Bob Tiedge Inducted Into RV/MH Hall of Fame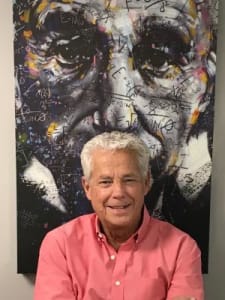 January 14, 2021
Elkhart, Ind. — Lippert Components' Bob Tiedge has been selected to be a part of the RV/MH Hall of Fame class of 2021.
Robert "Bob" Tiedge is an avid camper and traveler who has been involved with RV camping for more than 50 years. He began his initial camping experiences as a young boy scout, and since then, he has traveled more than 1.2 million miles throughout his life on multiple camping, hunting, NASCAR, and fishing trips to countless destinations. His experiences combined with his enthusiasm for camping and traveling clearly exhibit why he was an ideal candidate for the RV/MH Hall of Fame and the perfect Brand Ambassador for Lippert's Campground Project.
"I am humbled by the great honor of being inducted into the Hall of Fame alongside my friends and colleagues," Tiedge stated. "As I reflect on the nomination, even today, it does not feel real. I equate part of my success to spending over a million miles on the road in my lifetime – both as a youth and as the Brand Ambassador for the Lippert Campground Project, which has offered me the opportunity to cross paths with many RVers across the United States. Regardless of the state, the rig, or the RVer, two words are at the heart of every conversation: family and freedom. Lippert is my family, and they've given me the freedom to live my heart's desire out on the road – dreaming up new ways to make difficult tasks simple."
In addition to his extensive camping experiences, Tiedge has made various contributions to the RV industry, starting with refurbishing a 1966 decommissioned Kreamo Bakery truck into a two-bedroom Class-C style camper in 1978. From then on, he has introduced, developed, designed, built, and produced a wide range of key RV enhancements and game changing solutions for RVs such as slide outs and leveling device introductions that are well known and used today. With his expansive knowledge of the RV industry, he got involved with the Lippert Campground Project to educate people across the U.S. about RVs and camping, Lippert products, problem resolutions, and plenty of other RV-related information due to his passion for enhancing camping experiences and creating the best adventures possible.
"Bob's life story has been centered on knowledge – both gaining and sharing, inventing, and servicing; and as the Brand Ambassador for the Lippert Campground Project, he is focused on connecting with RVers to educate and be educated. His knowledge combined with his thirst to solve every day complex issues has undoubtedly secured his hall of fame nomination," said Nicole Sult, Senior Director, Customer Experience. "In all of the years I've known Bob, leaving behind a legacy has been important to him. Now, between the Campground Project and being a part of the hall of fame, it's like his dreams of leaving a legacy are unfolding right in front of him."
In his role as the Lippert Campground Project Brand Ambassador, Tiedge has a mission of connecting and interacting with campers everywhere right at their favorite campgrounds to get feedback and build a resourceful RVing community like no other. He has traveled to places such as Richmond KOA North (Virginia), Statesville (North Carolina), Kentucky Horse Park (Kentucky), and Myrtle Beach Lakewood Camping Resort (South Carolina). He spent the past month traveling to various campgrounds throughout Florida, and next he will be heading to the B10 Campground in Quartzsite, Arizona for the Quartzsite RV Show.
"Understanding the influx of new RVers due to travel restraints brought back many memories of a dysfunctional weekend I once had due to misunderstandings of how things work on my travel trailer; and at that point, I realized that there had to be a more effective way of addressing 'trip interrupter' issues," Tiedge continued. "Lippert gives me the freedom to not only innovate a more effective and efficient component, but they also provide the resources for me to travel the country to educate dealer techs on the simplicity of troubleshooting. Jumping forward to now, Lippert has put forth a program to reach out to the RV community about maintenance and care of their units so they can enjoy weekend travels without any down time, and there was no way I could say no to that opportunity."
Follow @LippertCampgroundProject on Facebook to keep up with Bob and his adventures along with the travel schedule, behind the scenes action, camping hacks, products, support, and other useful RV-related info.
---
With over 90 manufacturing and distribution facilities located throughout North America, Europe, Africa, and Asia, Lippert™ is a leading, global manufacturer and supplier of highly engineered products and customized solutions dedicated to shaping, growing, and bettering the RV, marine, automotive, commercial vehicle, and building products industries, and their adjacent markets. Lippert also serves a broad array of aftermarket segments, supplying best-in-class products designed to enhance recreational pursuits, both on the road and on the water. From powerful towing technology and automated RV leveling systems, to boating furniture and one-of-a-kind shade solutions — Lippert combines strategic manufacturing capabilities with the power of our winning team culture to deliver unrivaled Customer Service, award-winning Innovation, and premium Products to every industry and person we serve.
Lippert
3501 County Road 6 East
Elkhart, IN 46514
Email: marcom@lci1.com