Lippert Components Consolidates Customer Support Services in South Bend Facility and Combines Mattress and Furniture Manufacturing in Goshen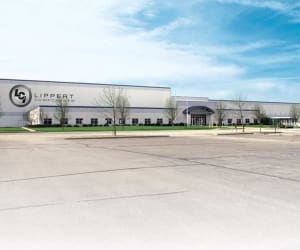 April 4, 2014
Elkhart, Ind. — Lippert Components, Inc. (LCI®) announced today that it has entered into a 12-½-year agreement to lease a 539,000-square-foot building at 1902 W. Sample Street, South Bend, where it will consolidate its aftermarket parts sales and Customer Support Services operations.
We are excited about the opportunities that South Bend, Indiana brings to Lippert Components," said LCI President Scott Mereness. "We believe this new facility will allow us to better serve our customers, both inside and outside Elkhart County. Additionally, the space at this facility provides us room for future growth, while expanding into South Bend allows us to tap into a new pool of talented employees."
LCI will immediately begin equipping the South Bend building and hiring employees for warehousing, distribution and light manufacturing operations. A portion of the space will be occupied by LCI's customer service and aftermarket call centers, dealer technician training areas and a large showroom that will display LCI's broad line of products. The showroom will not only be used to showcase products to customers, but will also accommodate hands-on dealer training.
"This state-of-the-art facility gives us the opportunity to continue our growth. Having one central location for our aftermarket parts distribution and customer service team enables us to provide prompt and efficient service to our customers on a more consistent basis. Providing customer service in a way that promotes future business is our first priority," said LCI Vice President of Aftermarket Parts and Customer Service April Klein. "This move is a testament to our commitment to our customers. From expanded shipping hours to hands-on dealer training, we are proud of what our team has accomplished and we are excited to take it to the next level."
Mereness emphasized that larger facilities allow the company to consolidate operations, improve efficiency and make room for future expansion. "In addition to the new leased facility in South Bend, we have also leased a 366,000-square-foot building at 2602 College Avenue in Goshen, Indiana," said Mereness. "This new facility in Goshen will be used to combine our rapidly growing furniture and mattress operations."
"Our success over the last few years has caused us to outgrow our current space," said Ryan Smith, LCI Vice President of Lippert Interiors. "We believe that consolidating our furniture and mattress teams will streamline and further refine our manufacturing process, as well as improve product quality. Further, product demand continues to grow and this new space will provide us the room we need to grow."
Mereness said LCI's new Goshen and South Bend facilities are large enough to allow future expansion to aid the company in meeting the demands of the steadily growing RV industry. "We require these larger buildings to accommodate the industry's current rate of growth. Further expansion will be evaluated as necessary in order to continually lead the industry with innovative products and excellent customer service."
---
With over 120 manufacturing and distribution facilities located throughout North America and EMEA, Lippert is a leading global manufacturer and supplier of highly engineered components and customized solutions dedicated to shaping, growing and bettering the RV, marine, automotive, commercial vehicle and building products industries and their adjacent markets. Lippert also serves a broad array of aftermarket industries, supplying best-in-class products designed to enhance recreational pursuits, both on the road and on the water. From powerful towing technology and automated RV leveling systems to boating furniture and one-of-a-kind shade solutions, Lippert combines strategic manufacturing capabilities with the power of our winning team culture to deliver unrivaled customer service, award-winning innovation, and premium products to every industry and person we serve.
Lippert
52567 Independence Ct.
Elkhart, IN 46514
Email: marcom@lci1.com