Lippert Components Designs Builds and Implements New Precision Axle Cambering Machine to Improve Product Quality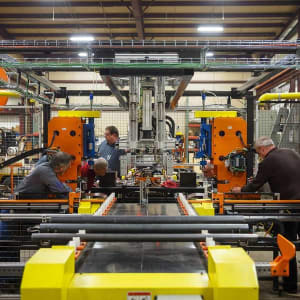 March 11, 2014
Elkhart, Ind. — The Lippert Components, Inc. (LCI®) Automation team recently designed, built and installed a new cambering machine into its Goshen axle manufacturing facility on College Avenue. The new machine nearly doubles production speed and significantly increases product precision, replacing an older model that will be retrofitted for the Company's west coast axle operation in Idaho.
"Every day we are focusing on product improvement, and this new machine is another step forward on our journey to improve every plant's manufacturing processes," said Vice President of Automation & Manufacturing Jeff Few. "We zeroed in on axles — a key product line for the Company — and conducted extensive research before launching this new machine."
Following lean manufacturing principles, LCI's Automation team reviewed axle manufacturing processes, interviewed machine operators and identified areas that could be improved. The Automation tool & die team then designed and built a new, efficient machine using state-of-the art technology including servo control and precision drill units to produce more accurate camber. This intelligent machine detects tube size and centers each one for improved accuracy.
LCI Director of Automation Mark Howie emphasized the machine's precision and efficiency. "The new machine has significantly improved axle quality and increased production speed and efficiency. It provides excellent accuracy of the cambering process. The camber tolerance is checked and corrected if needed prior to exiting the machine."
Few said that this new machine's success provides the team a strong foundation to plan further production improvements and develop new technology to enhance operating efficiencies. "We are very happy with the results of this new axle cambering machine and look forward to further improvements and automation initiatives."
---
With over 90 manufacturing and distribution facilities located throughout North America, Europe, Africa, and Asia, Lippert™ is a leading, global manufacturer and supplier of highly engineered products and customized solutions dedicated to shaping, growing, and bettering the RV, marine, automotive, commercial vehicle, and building products industries, and their adjacent markets. Lippert also serves a broad array of aftermarket segments, supplying best-in-class products designed to enhance recreational pursuits, both on the road and on the water. From powerful towing technology and automated RV leveling systems, to boating furniture and one-of-a-kind shade solutions — Lippert combines strategic manufacturing capabilities with the power of our winning team culture to deliver unrivaled Customer Service, award-winning Innovation, and premium Products to every industry and person we serve.
Lippert
3501 County Road 6 East
Elkhart, IN 46514
Email: marcom@lci1.com