Lippert Components Donates Smart Home Tech to Disabled Us Veteran Rver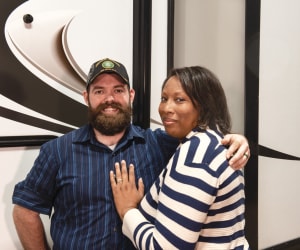 May 25, 2018
Elkhart, Ind. — Lippert Components, Inc. (LCI®), a leading supplier of premium components for the leisure and mobile transportation industries, recently installed OneControl® smart home technology in the Brent family's travel trailer. RVers Robert and Del'Rhea Brent worked with LCI's Customer Service team to equip the family's travel trailer with OneControl's automated systems for leveling, lighting, slide-outs, awnings, and HVAC systems.
Robert joined the U.S. Army in 2009, where he was training for a future career in law enforcement, when he became injured during a combat training exercise. The injury left him with mobility issues that endure to this day. Robert is now happily married to his wife Del'Rhea and the couple has two children and two dogs. The family will now be living, traveling, and working from their OneControl-equipped travel trailer RV.
"For me, OneControl is useful because I'm a tech guy. I always have gadgets in my house, voice-control, lights, all of that. The OneControl system was really the only one I could find on the market for RVs and it does more than I was even looking to do." said Robert Brent. "Being disabled and not being able to get in and out, the auto hitch height memory feature of the leveling system is definitely going to be beneficial. Just push a button and its ready to go."
The Brent's were not strangers to smart home technology before having OneControl installed in their unit. At their Maryland home, the family had wired the house with Amazon's voice-controlled Alexa, adding the convenience of phone and voice-control operations. After purchasing their travel trailer, they knew they wanted technology to help control their unit.
"The whole purpose of having a camper and being able to travel and take the kids is to enjoy life and enjoy what we have to offer in our country. Not having any added stress is just going to make it better." commented Del'Rhea Brent.
Watch the Brent family story here.
For more information on LCI's smart tech for RVs, visit www.lci1.com/onecontrol
---
From over 140 manufacturing and distribution facilities located throughout North America, Africa and Europe, Lippert™ supplies a broad array of highly engineered components for the leading manufacturers of recreational vehicles, automobiles, watercraft and prefab homes. It also operates in adjacent markets, including hospitality, transportation, construction and agriculture. Lippert™ serves a wide range of aftermarket segments, providing high-quality products for the recreational vehicle / caravanning, automotive and marine industries. With over 12,500 team members and a diverse portfolio of best-in-class brands, Lippert™ adopts a team-based business philosophy and has proven that, by putting people first, the possibilities for growth and development are truly endless.
Lippert
52567 Independence Ct.
Elkhart, IN 46514
Email: marcom@lci1.com