Lippert Components Donates to Goshen Center for Cancer Care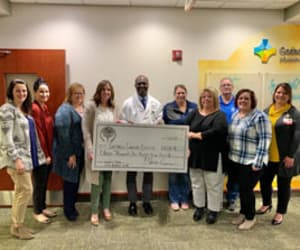 November 19, 2019
Story first reported by Goshen Health
GOSHEN, Ind. – When a small group of team members from a Goshen Lippert Components, Inc., (LCI®) plant began a Pink Out event in 2017, they had hopes it would grow. But even they couldn't have foreseen what happened in 2019.
As a Company, LCI supports and encourages team members to give back to their communities – so that environment helped build momentum for the efforts of the team's original vision. The 2017 fundraising efforts were donated to Goshen Center for Cancer Care because of one employee's – Jackie Finnigan's – personal interactions with the center. Along with her other colleagues, the passion of this LCI team inspired their co-workers, families, friends and the corporation to join in supporting patients with cancer, their families and their healthcare providers.
In 2018, LCI's efforts were also donated to Goshen Center for Cancer Care. In 2019, the three-person LCI team of Jackie Finnigan, Wendy Isaacs and Jessica Otto raised the bar, setting a goal of $10,000 to be raised in six weeks of fundraising activities. They started off the month of October by delivering 31 teddy bears to Goshen Center for Cancer Care, requesting one be given each day to a patient who either encouraged others or needed extra encouragement. Throughout the month, they raised money through a softball tournament, selling t-shirts, having men dress up in tutus and other fun activities.
On November 5, 2019, when LCI colleagues arrived at the cancer center to present their check, they were thrilled to announce they had raised $11,295!
But that wasn't all. LCI's Director of Corporate & Community Impact, Michilah Grimes brought out a matching check from Lippert saying, "This is the definition of what we strive for – team members getting involved in the community and creating impact. And we just can't thank you enough for the work you do."
Dr. Ebenezer Kio, Medical Oncologist, was there to receive the check on behalf of the cancer center. He said, "You didn't have to do this. And that's the best part. You didn't have to think of others … but you did. And that's an encouragement to keep doing what we do. There are a lot of patients hurting from this disease. I thank you from the bottom of my heart. It's a reflection of what we strive to be as an institution, to be all caring, all serving and going about it in a humble way. You've definitely done that. Lippert, thank you so much. You've made the world around us a little lighter."
What started out as a couple of women's desire to give back created a community of people who caught the vision and compassion for others who travel the same road many families have.
About Goshen Health:
Goshen Health is a community-owned, nonprofit healthcare organization committed to improving the health of its communities. To live out the organization's mission, Colleagues practice compassion, accountability, respect and excellence in every endeavor. The health system includes 38 locations across four counties with specialized cancer care; heart and vascular care; and a physician's network with primary and specialty care.
For more information about Goshen Health, contact Liz Fisher at (574) 364-2776, lfisher2@goshenhealth.com or visit www.GoshenHealth.com.
---
With over 120 manufacturing and distribution facilities located throughout North America and EMEA, Lippert is a leading global manufacturer and supplier of highly engineered components and customized solutions dedicated to shaping, growing and bettering the RV, marine, automotive, commercial vehicle and building products industries and their adjacent markets. Lippert also serves a broad array of aftermarket industries, supplying best-in-class products designed to enhance recreational pursuits, both on the road and on the water. From powerful towing technology and automated RV leveling systems to boating furniture and one-of-a-kind shade solutions, Lippert combines strategic manufacturing capabilities with the power of our winning team culture to deliver unrivaled customer service, award-winning innovation, and premium products to every industry and person we serve.
Lippert
52567 Independence Ct.
Elkhart, IN 46514
Email: marcom@lci1.com