Lippert Components Enhances Sales Team Structure With Several Key Promotions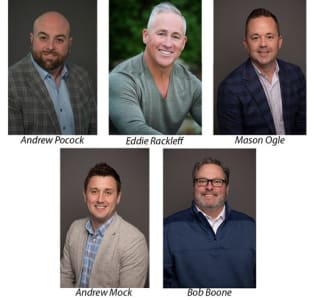 June 17, 2020
Elkhart, Ind. — Lippert Components, Inc. (LCI®) announces today that it has promoted several team members within the sales team. With these key promotions, the company is positioning the sales team to manage future growth, to better service its customers, and to provide strategic leadership oversight for several marketplaces.
Andrew Pocock, Senior Vice President of Sales, Emerging Markets
Bob Boone, Vice President of Sales, Utility Trailers
Mason Ogle, Vice President of Sales, RV
Andrew Mock, Vice President of Interior Sales and Business Development, RV
Eddie Rackleff, Vice President of Business Development, West Coast
"These sales team promotions will help build out our entire sales organizational structure, helping us stay ahead of growth and ensuring we're taking care of customers to the fullest extent," commented Andy Murray, LCI's Chief Sales Officer. "These promotions will also help enhance our efforts to provide strategic guidance to our team members. With multi-faceted leadership now in place, we can enhance the way we do business in each specific marketspace."
Andrew Pocock's role has been elevated to Senior Vice President of Sales, Emerging Markets. Pocock, who has been with LCI for 16 years, will now provide leadership over the company's entire emerging markets division, with subgroups including utility and commercial vehicles, residential housing products, and several other adjacent markets. He will oversee the company's diversification strategy.
"With diversification being a priority, I'm excited to take our emerging markets effort to the next level," stated Pocock. "LCI is a leader, and we will continue to lead the way within new and adjacent markets."
As Vice President of Sales, Utility Trailers, Bob Boone will continue to work within the company's emerging markets division and drive LCI's axle product strategy. Boone's promotion comes as recognition of his lead role for the utility trailer sales group. Under his continued leadership, with 15 years of experience at LCI, the team will build off of their steady growth and will enhance success efforts as one of the company's key sales teams.
As Vice President of Sales, RV, Mason Ogle will oversee the company's chassis, body, and business development teams. With three years at LCI, he will answer day-to-day customer needs alongside of his teams and continue to ensure the needs of LCI's OEM partners are met.
Andrew Mock, in his new role as Vice President of Interior Sales and Business Development, RV, will continue to provide direction for the interior sales teams and will get more involved in overall business development for the entire RV marketplace. Mock, who has been with LCI for six years, will maintain his responsibilities within interior sales but will now oversee key product growth opportunities, as well as pursue solutions to OEM partners that span all LCI products.
As Vice President of Business Development, West Coast, Eddie Rackleff will oversee business development for the company's West Coast accounts, primarily in the RV market. Rackleff has been with LCI for 12 years and has represented and grown LCI's product presence on the West Coast and will be able to be of even greater service in his new role.
---
With over 120 manufacturing and distribution facilities located throughout North America and Europe, Lippert™ is a leading, global manufacturer and supplier of highly engineered components and customized solutions dedicated to shaping, growing, and bettering the RV, marine, automotive, commercial vehicle, and building products industries, and their adjacent markets. Lippert also serves a broad array of aftermarket industries, supplying best-in-class products designed to enhance recreational pursuits, both on the road and on the water. From powerful towing technology and automated RV leveling systems, to boating furniture and one-of-a-kind shade solutions — Lippert combines strategic manufacturing capabilities with the power of our winning team culture to deliver unrivaled Customer Service, award-winning Innovation, and premium Products to every industry and person we serve.
Lippert
3501 County Road 6 East
Elkhart, IN 46514
Email: marcom@lci1.com