Lippert Components Highlights Customer Service Improvements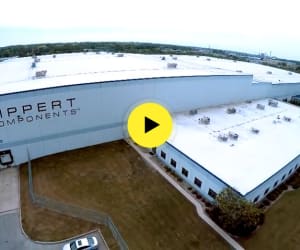 October 12, 2016
Elkhart, Ind. — Lippert Components, Inc. (LCI®) recently released a video, accessible here, offering an in depth look into the company's customer service-related improvements. The video discusses improvements to LCI's customer service and call center, warehousing and distribution, training and technical publications, and aftermarket divisions, all housed within LCI's state-of-the-art, 540,000-square-foot Customer Service and Aftermarket facility in South Bend, Indiana.
As seen in the video, LCI's VP of Customer Support Services, April Klein, discusses the vast capabilities and improvements at Plant 39, LCI's Customer Service and Aftermarket facility. Plant 39's call center responds to daily inquiries from customers including retailers, wholesale distributors, RV dealerships, and OEM service facilities, averaging over 47,000 customer service-related calls each month. Utilizing LCI's Product Lab, LCI customer service representatives can simulate, in real time, issues being faced by customers, creating a more fluid understanding of the problem and allowing the issues to be resolved more efficiently than ever before.
Another major component of LCI's customer service and logistical improvements include the Warehousing and Distribution Division, which processes more than 135,000 customer shipments each month. LCI has introduced a multitude of process improvements and technologies, such as CubiScan®, an automated system that logs product weights and dimensions, providing a quicker turnaround for freight quoting. Box on demand is another major change LCI has implemented, eliminating the need to stock boxes of every shape and size for parts packaging and allowing LCI to manufacture size-specific boxes.
The video features LCI's Dealer Training and Technical Publications Division, spotlighting the implemented efficiencies that help train nearly 1,000 dealers each year and more than 8,500 technicians. The division, which held over 20 regional training seminars over the last two years, works to educate and inform RV dealers, service technicians and other industry professionals on all of LCI's components and how to properly service them.
---
From over 140 manufacturing and distribution facilities located throughout North America, Africa and Europe, Lippert™ supplies a broad array of highly engineered components for the leading manufacturers of recreational vehicles, automobiles, watercraft and prefab homes. It also operates in adjacent markets, including hospitality, transportation, construction and agriculture. Lippert™ serves a wide range of aftermarket segments, providing high-quality products for the recreational vehicle / caravanning, automotive and marine industries. With over 12,500 team members and a diverse portfolio of best-in-class brands, Lippert™ adopts a team-based business philosophy and has proven that, by putting people first, the possibilities for growth and development are truly endless.
Lippert
52567 Independence Ct.
Elkhart, IN 46514
Email: marcom@lci1.com