Lippert Components Inc Invests in Augmented Reality Digital Innovations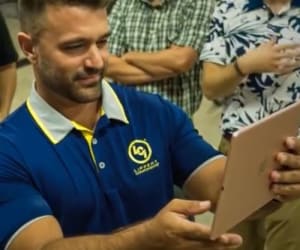 October 9, 2017
Elkhart, Ind. — Lippert Components, Inc. (LCI®) announced today that the Company's Digital Innovation Department has developed augmented reality capabilities that allow them to give OEM customers a visual representation of product integrations without manufacturing a physical prototype. The Company has developed an internal program whereby 3D Computer-Aided Design (CAD) models can be viewed in a physical location with the human eye during the product development stage, providing OEMs with on-the-spot, visual representations of product and floor plan integrations.
"With augmented reality, I can go from meeting with a product manager straight to engineering, and the minute we have a 3D concept, you can actually go out to production, load up the image and interact with it around the coach. You can place it in the coach, you can move it around the coach, and you can tell me, do we have enough room to move around in this floorplan," said Dominick Bilancio, LCI's RV Product Manager. "You can make real-time changes right there because they're much easier to change on a computer than once you begin production."
LCI Workbench is the internal app developed by LCI's Digital Innovation Department that allows the Company's R&D team to better service customers. Utilizing a Microsoft HoloLens, the lens wearer gets a visual introduction to LCI's product and is also able to share the augmented reality experience on nearby monitors, allowing all other parties the ability to view the product concept as well. The LCI workbench app has also been developed for the Apple iPad and iPhone for internal use.
In lieu of physical product prototypes, LCI's R&D team can conceptualize and visually display products to exact size specifications. The Company's digital investments give OEM partners a realistic, 3D representation of LCI's products in real world spaces without the time-consuming and often expensive phase of trial and error in manufacturing.
Michael Rupchock, Director of LCI's Digital Innovation Department explains, "Our team focuses on bringing transformative new technologies to keep us sharp and to stay ahead of the curve. Digital solutions that can make our teams faster, more efficient or help them communicate more clearly with our customers are a win. That's why augmented reality felt like a no brainer for us, as it checks off all those boxes. It's even more exciting because we've barely scratched the surface; this technology will only continue to get better and better in the coming years."
"Innovation is the very core of our operations. We always strive to stay ahead of the curve, so to speak, and digital innovations have become another avenue for us," commented Jamie Schnur, LCI's Chief Administration Officer.
For more information about LCI's digital innovations, contact mrupchock@lci1.com
---
With over 120 manufacturing and distribution facilities located throughout North America and EMEA, Lippert is a leading global manufacturer and supplier of highly engineered components and customized solutions dedicated to shaping, growing and bettering the RV, marine, automotive, commercial vehicle and building products industries and their adjacent markets. Lippert also serves a broad array of aftermarket industries, supplying best-in-class products designed to enhance recreational pursuits, both on the road and on the water. From powerful towing technology and automated RV leveling systems to boating furniture and one-of-a-kind shade solutions, Lippert combines strategic manufacturing capabilities with the power of our winning team culture to deliver unrivaled customer service, award-winning innovation, and premium products to every industry and person we serve.
Lippert
52567 Independence Ct.
Elkhart, IN 46514
Email: marcom@lci1.com