Lippert Components Inc Lci Announces Industry Leading Axle Warranties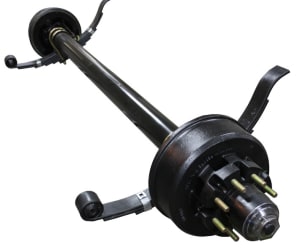 September 9, 2016
Elkhart, Ind. — Lippert Components, Inc. (LCI®) announced today that, effective January 1, 2017, they will be extending their spring axle warranty to 6 years, and their torsion axle warranty to 11 years.
"We're proud to offer the industry leading warranties on spring and torsion axles," said Scott Mereness, President of LCI. "At LCI, we're always looking for ways to be the best supplier in the industry. We stand by our axle and running gear product, and through this new warranty, we're illustrating our commitment to providing the highest quality products and our continued dedication to new product innovations. We want all retail customers to feel safe and confident knowing they are riding on LCI's axles."
LCI began manufacturing axles in 2004, and today ships over 16,000 axles per week. LCI boasts several industry leading manufacturing processes and features, such as waterproof connections on all wiring, standard zinc plated hardware, an integrated one-piece spindle, ultrasonic weld testing, powder coated finish and complete traceability and serialization on all axle components.
"At LCI, we want to be great partners with our customers," said Bob Boone, LCI's Director of Sales for Running Gear. "Our new warranty program shows that we stand by our product, and more importantly, stand by our partners. In the end, we view all of our LCI customers as partners."
LCI representatives will be on hand to answer questions at this year's NATDA show in Nashville, TN starting Friday, September 9th. This announcement follows the exciting news that Redneck Trailer Supply will now carry LCI axles and running gear product. Both companies will be displaying at the NATDA show in booth 1000.
For more information on LCI, visit www.lippertcomponents.com.
If you're an LCI customer and have axle or running gear inquiries, email bboone@lci1.com
---
From over 140 manufacturing and distribution facilities located throughout North America, Africa and Europe, Lippert™ supplies a broad array of highly engineered components for the leading manufacturers of recreational vehicles, automobiles, watercraft and prefab homes. It also operates in adjacent markets, including hospitality, transportation, construction and agriculture. Lippert™ serves a wide range of aftermarket segments, providing high-quality products for the recreational vehicle / caravanning, automotive and marine industries. With over 12,500 team members and a diverse portfolio of best-in-class brands, Lippert™ adopts a team-based business philosophy and has proven that, by putting people first, the possibilities for growth and development are truly endless.
Lippert
52567 Independence Ct.
Elkhart, IN 46514
Email: marcom@lci1.com