Lippert Components Inc Lci Launches Gold Circle Dealer Program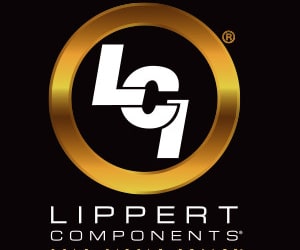 November 4, 2016
Elkhart, Ind. — Lippert Components, Inc. (LCI®) will officially launch its new Gold Circle Dealer Program at this year's RVDA show at Bally's Casino and resort in Las Vegas, Nevada. During its "Vendor Training +Plus" seminar on Tuesday, November 8th from 9:30-10:30, representatives from LCI will explain how this newly designed program offers premium product support and marketing for participating dealerships. Besides upgraded sales support, Lippert's Gold Circle Dealer Program offers participating dealerships enhanced customer support services when they agree to stock various LCI products.
LCI's Gold Circle Dealer Program is an effort to strengthen partnerships between LCI and RV dealerships, whereby dealerships that join Lippert's Gold Circle Dealer Program will enjoy a variety of upgraded perks from specialized marketing solutions to premier customer support services and access to LCI's newest products and merchandising programs. Additionally, Gold Circle Dealers will be featured on LCI's newly enhanced Dealer Locator, a digital tool used by consumers to search for local dealerships that stock the LCI products they need.
LCI has committed to offering Gold Circle Dealers the following:
Specialized Marketing Solutions: Gold Circle Dealers will be able to work directly with LCI's expert marketing team to get one-on-one, personalized marketing consultations that are individually tailored to specific dealership needs and goals.
Regional Consumer Advertising: Using geographically-targeted ads and specialized digital marketing, LCI's marketing team will work to attract ready-to-buy RVers to Gold Circle Dealerships.
Dealership Feature on LCI Social Media: LCI will craft personalized social media posts to highlight Gold Circle Dealerships and increase exposure to target audiences.
Premier Access to New LCI Products & Merchandising Programs: Gold Circle Dealers will have access to LCI's best and brightest products and merchandising programs. LCI's most in-demand products will come complete with specialized marketing materials and display racks.
Gold Circle Dealer Locator: Gold Circle Dealers will be featured on LCI's Dealer Locator, a widely used digital search tool that allows consumers to lookup dealerships with product-specific information.
Premier Support: Gold Circle Dealers are provided with the fastest and most direct channels to reach LCI's customer support team. With the Gold Circle Dealer-exclusive phone number, Gold Circle Dealers will enjoy expedited customer service support.
"We're excited to offer the Gold Circle Dealer Program to our network of loyal dealerships. We've put together a system of reciprocity designed to foster success for all parties that we're extremely proud of. We knew we needed to improve upon, and elevate, the resources available to our dealer partners, and creating the Gold Circle Dealer Program is definitely a value-add," commented Stephan Lussier, LCI's Managing Director of Aftermarket.
For more information on LCI'S Gold Circle Dealer Program or apply, click here: https://www.lci1.com/goldcircle/
---
From over 140 manufacturing and distribution facilities located throughout North America, Africa and Europe, Lippert™ supplies a broad array of highly engineered components for the leading manufacturers of recreational vehicles, automobiles, watercraft and prefab homes. It also operates in adjacent markets, including hospitality, transportation, construction and agriculture. Lippert™ serves a wide range of aftermarket segments, providing high-quality products for the recreational vehicle / caravanning, automotive and marine industries. With over 12,500 team members and a diverse portfolio of best-in-class brands, Lippert™ adopts a team-based business philosophy and has proven that, by putting people first, the possibilities for growth and development are truly endless.
Lippert
52567 Independence Ct.
Elkhart, IN 46514
Email: marcom@lci1.com