Lippert Components, Inc. recruits Trevor Robinson to Leadership Training program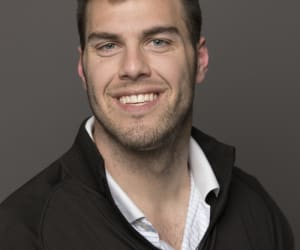 October 10, 2017
Elkhart, Ind. — Former NFL football player Trevor Robinson has joined the Leadership in Training (LIT) program at Lippert Components, Inc. (LCI®). Robinson joins the LCI team as Leader in Training at LCI's Plant 45 in Goshen, Ind. where he will prepare for an operational management role within the Company.
Robinson was born and raised in Nebraska and later attended the University of Notre Dame where he studied Business Management and was a member of the school's football team. For the last five years, Robinson played professional football for the Cincinnati Bengals, the San Diego Chargers, and most recently the Atlanta Falcons.
"I'm excited about a career at LCI because I wanted to be part of a team that aligns with my priorities and is committed to winning. I am very impressed with LCI's success in the RV industry and believe the Company's current leadership and dedication to leadership training is a very positive and appealing aspect," commented Trevor Robinson.
Lippert's Leadership in Training program, initiated in 1994 by LCI CEO Jason Lippert and his team, aims to build long-term management teams within the Company. The program focuses on bringing college-educated individuals from all areas of the country and outside the business into the recreational vehicle (RV) industry in order to bring diversity to an industry that typically recruits only regionally.
"Our LIT program is a unique facet of our business. Without proper training and introduction to our operations, LCI would not be as successful. Our front line leaders are a critical component to our success, and we're very excited to bring Trevor into the fold and know he will make an immediate impact," commented Jason Lippert, CEO of Lippert Components.
The curriculum of the program is designed to provide trainees with a roadmap that introduces them to LCI's unique culture, defined by its core values, while giving them exposure to the product-building process during their time spent in the 'trenches' of the company's infrastructure. In turn, the program allows LCI to assess future management and determine where their skill sets would be best utilized, resulting in a high-performance workforce.
Since its inception over two decades ago, LCI's LIT program has cultivated a few hundred talented individuals within Lippert's leadership teams.
Trevor Robinson can be reached at trobinson@lci1.com
---
With over 120 manufacturing and distribution facilities located throughout North America and EMEA, Lippert is a leading global manufacturer and supplier of highly engineered components and customized solutions dedicated to shaping, growing and bettering the RV, marine, automotive, commercial vehicle and building products industries and their adjacent markets. Lippert also serves a broad array of aftermarket industries, supplying best-in-class products designed to enhance recreational pursuits, both on the road and on the water. From powerful towing technology and automated RV leveling systems to boating furniture and one-of-a-kind shade solutions, Lippert combines strategic manufacturing capabilities with the power of our winning team culture to deliver unrivaled customer service, award-winning innovation, and premium products to every industry and person we serve.
Lippert
52567 Independence Ct.
Elkhart, IN 46514
Email: marcom@lci1.com