Lippert Components Introduces 100000 Hours of Community Service Initiative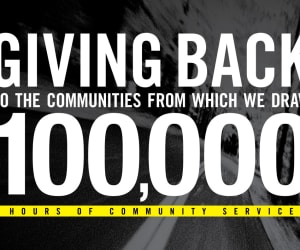 January 27, 2017
Elkhart, Ind. — With the start of a new year, Lippert Components, Inc. (LCI®) has embarked on a company-wide social responsibility initiative to complete 100,000 hours of community service during 2017. With more than 8,000 employees and 48 facilities, LCI's community outreach initiative aims to give back to the communities from which their employees live, work and play. LCI will partner with local nonprofits, school systems and community leaders to drive community involvement and reinforce LCI's culture of caring and collaboration. Through this collective effort, LCI hopes to not only inspire its employees, but also hopes their initiative will encourage and inspire others within the community to increase their social responsibility efforts.
"Our employees, our customers and our communities have all made it possible for LCI to be successful, and we're very thankful for that," stated Jason Lippert, CEO of LCI. "As LCI continues to grow, we've recognized that our social responsibility and duty to the communities from which we draw has also grown. We're excited to see our core values put into action to complete 100,000 hours of community service, but more than that, we're excited to see our employees step up as community leaders and create positive impacts," continued Lippert.
All media and press are invited to attend. Please join us on Thursday, February 9, 2017 at 2:00pm EST at LCI's Marketing & Showroom facility in Elkhart for the 100,000 Hours of Community Service announcement and introduction speech by LCI CEO, Jason Lippert.
For more information, please contact Michilah Grimes, LCI's Director of Philanthropic Partnerships, at michilahg@lci1.com
---
From over 140 manufacturing and distribution facilities located throughout North America, Africa and Europe, Lippert™ supplies a broad array of highly engineered components for the leading manufacturers of recreational vehicles, automobiles, watercraft and prefab homes. It also operates in adjacent markets, including hospitality, transportation, construction and agriculture. Lippert™ serves a wide range of aftermarket segments, providing high-quality products for the recreational vehicle / caravanning, automotive and marine industries. With over 12,500 team members and a diverse portfolio of best-in-class brands, Lippert™ adopts a team-based business philosophy and has proven that, by putting people first, the possibilities for growth and development are truly endless.
Lippert
52567 Independence Ct.
Elkhart, IN 46514
Email: marcom@lci1.com