Lippert Components Introduces Automated Brake Press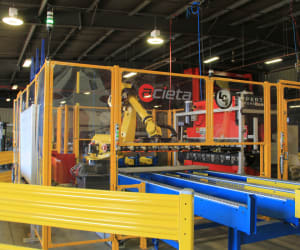 July 28, 2017
Elkhart, Ind. — The Chassis Division of Lippert Components, Inc. (LCI®) has introduced an automated brake press with a robotic arm that reassigns the formerly manual process of bending cross members to join I-beams.
Team members supply the machine with stacks of laser or pressed blank I-beams. The robotic arm communicates with the brake press and creates bends in the cross members and then checks them for correct angularity.
LCI's automated brake press is just one step the business is taking to ensure operations are run efficiently and cost effectively, but as LCI's Technical Director of the Chassis Division explains, the state-of-the-art machinery also serves to train LCI's team members with the latest in automation technology.
LCI's Technical Director of the Chassis Division, Philip Wiltshire, explains, "The automated brake press has opened up many opportunities for our production and for our team members. Introducing the technology has not only helped promote safety and efficiency, but it has created learning opportunities for our team members who are now responsible for supervising and operating the new technology."
LCI's automated brake press is the first step in the overall automation strategy within the Chassis Division.
Watch the video here to learn more.
---
From over 140 manufacturing and distribution facilities located throughout North America, Africa and Europe, Lippert™ supplies a broad array of highly engineered components for the leading manufacturers of recreational vehicles, automobiles, watercraft and prefab homes. It also operates in adjacent markets, including hospitality, transportation, construction and agriculture. Lippert™ serves a wide range of aftermarket segments, providing high-quality products for the recreational vehicle / caravanning, automotive and marine industries. With over 12,500 team members and a diverse portfolio of best-in-class brands, Lippert™ adopts a team-based business philosophy and has proven that, by putting people first, the possibilities for growth and development are truly endless.
Lippert
52567 Independence Ct.
Elkhart, IN 46514
Email: marcom@lci1.com