Lippert Components Introduces Keyed Alike Lock System for Rv Entry Ramp and Baggage Doors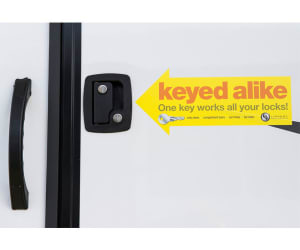 November 17, 2015
Elkhart, Ind. — Lippert Components, Inc. (LCI®) introduces the new Keyed Alike lock system, which allows a manufacturer or dealer to standardize each RV so just one key works with every door lock. The Keyed Alike system is available on LCI's complete line of RV entry, ramp and baggage doors.
"In some cases, customers are leaving a dealership with up to seven different keys for one RV. It's just not practical or efficient. Changing out all those locks could cost them hundreds of dollars," says Andy Murray, LCI Vice President of Sales. "Instead we're offering this new system so consumers have just one set of keys for all the locks on their rig."
Murray says it's not just about efficiency, the Keyed Alike lock system also increases security. "Now RVers won't have to worry that another camper could open their baggage doors with a standard industry key because each RV's doors will only open using its unique set of keys," says Murray.
LCI will showcase the Keyed Alike system along with other new products at the RVIA National RV Trade Show on December 1-3, 2015, in Louisville, KY. LCI will also offer an aftermarket Keyed Alike system profit program for dealers in 2016. Contact Scott McKinnon at smckinnon@lci1.com for more information.
---
From over 140 manufacturing and distribution facilities located throughout North America, Africa and Europe, Lippert™ supplies a broad array of highly engineered components for the leading manufacturers of recreational vehicles, automobiles, watercraft and prefab homes. It also operates in adjacent markets, including hospitality, transportation, construction and agriculture. Lippert™ serves a wide range of aftermarket segments, providing high-quality products for the recreational vehicle / caravanning, automotive and marine industries. With over 12,500 team members and a diverse portfolio of best-in-class brands, Lippert™ adopts a team-based business philosophy and has proven that, by putting people first, the possibilities for growth and development are truly endless.
Lippert
52567 Independence Ct.
Elkhart, IN 46514
Email: marcom@lci1.com