Lippert Components Introduces New Alumi Tread Hybrid Rv Step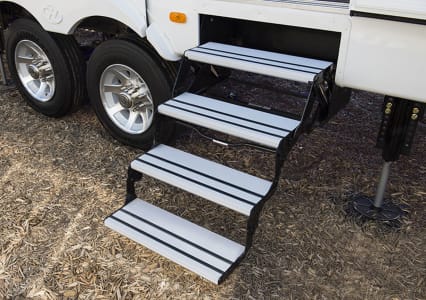 April 10, 2015
Elkhart, Ind. —Lippert Components, Inc. (LCI®) introduces its new Alumi-Tread™ hybrid RV step, featuring strong, steel linkage and attractive aluminum treads with anti-slip rubber grooves for excellent traction.
"We're always seeking customer feedback so that we can develop the products our customers really want, and this new hybrid Alumi-Tread step brings together some of our customers' favorite step features," said Andy Murray, LCI Vice President of RV Sales. "The unique hybrid design of the Alumi-Tread step utilizes steel linkage to provide more stability than an all-aluminum step, and also features lightweight aluminum treads lending that high-end, European look customers love, but at a lower price point."
The sleek, euro-style Alumi-Tread hybrid step provides both style and functionality with proven steel linkage and lightweight, rust-resistant aluminum treads for long-lasting durability, and built-in anti-slip rubber grooves for traction. The Alumi-Tread hybrid step is available in triple and quad configurations and adds a clean, modern appearance to RVs, as well as a consistent, smooth operation.
LCI Chassis Components Product Manager Caleb Holdread emphasizes that LCI has an RV step for everyone. "We have a complete line of RV steps and the Alumi-Tread fits right in the lineup along with our time-tested steel entry steps and our high-end all-aluminum Tread Lite® step," said Holdread. "Using steel linkage allowed us to create a stronger structure to support triple and quad configurations, and also allows us to offer that attractive aluminum style at the right price point."
The Alumi-Tread hybrid RV step is available standard on popular RV brands, and as an easy-to-install aftermarket kit available through aftermarket channels. RV manufacturers can contact Caleb at choldread@lci1.com or 574-238-3068 for more information. Dealers and consumers can contact aftermarketsales@lci1.com or 574.312.6654 for more information.
---
From over 140 manufacturing and distribution facilities located throughout North America, Africa and Europe, Lippert™ supplies a broad array of highly engineered components for the leading manufacturers of recreational vehicles and prefab homes. It also operates in adjacent markets, including marine, bus, industrial vehicles and trains. Lippert™ also serves a wide range of aftermarket segments, providing high quality products for the caravanning, automotive and marine industries. With over 15,000 team members, and a diverse portfolio of best-in-class brands, Lippert™ adopts a team-based business philosophy and has proven that, by putting people first, the possibilities for growth and development are truly endless.
Lippert
52567 Independence Ct.
Elkhart, IN 46514
Email: marcom@lci1.com