Lippert Components Introduces New Alumi Tread Hybrid Rv Step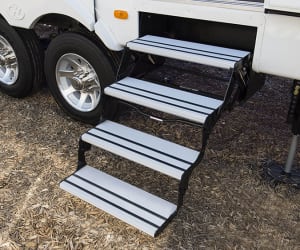 April 10, 2015
Elkhart, Ind. —Lippert Components, Inc. (LCI®) introduces its new Alumi-Tread™ hybrid RV step, featuring strong, steel linkage and attractive aluminum treads with anti-slip rubber grooves for excellent traction.
"We're always seeking customer feedback so that we can develop the products our customers really want, and this new hybrid Alumi-Tread step brings together some of our customers' favorite step features," said Andy Murray, LCI Vice President of RV Sales. "The unique hybrid design of the Alumi-Tread step utilizes steel linkage to provide more stability than an all-aluminum step, and also features lightweight aluminum treads lending that high-end, European look customers love, but at a lower price point."
The sleek, euro-style Alumi-Tread hybrid step provides both style and functionality with proven steel linkage and lightweight, rust-resistant aluminum treads for long-lasting durability, and built-in anti-slip rubber grooves for traction. The Alumi-Tread hybrid step is available in triple and quad configurations and adds a clean, modern appearance to RVs, as well as a consistent, smooth operation.
LCI Chassis Components Product Manager Caleb Holdread emphasizes that LCI has an RV step for everyone. "We have a complete line of RV steps and the Alumi-Tread fits right in the lineup along with our time-tested steel entry steps and our high-end all-aluminum Tread Lite® step," said Holdread. "Using steel linkage allowed us to create a stronger structure to support triple and quad configurations, and also allows us to offer that attractive aluminum style at the right price point."
The Alumi-Tread hybrid RV step is available standard on popular RV brands, and as an easy-to-install aftermarket kit available through aftermarket channels. RV manufacturers can contact Caleb at choldread@lci1.com or 574-238-3068 for more information. Dealers and consumers can contact aftermarketsales@lci1.com or 574.312.6654 for more information.
---
With over 120 manufacturing and distribution facilities located throughout North America and EMEA, Lippert is a leading global manufacturer and supplier of highly engineered components and customized solutions dedicated to shaping, growing and bettering the RV, marine, automotive, commercial vehicle and building products industries and their adjacent markets. Lippert also serves a broad array of aftermarket industries, supplying best-in-class products designed to enhance recreational pursuits, both on the road and on the water. From powerful towing technology and automated RV leveling systems to boating furniture and one-of-a-kind shade solutions, Lippert combines strategic manufacturing capabilities with the power of our winning team culture to deliver unrivaled customer service, award-winning innovation, and premium products to every industry and person we serve.
Lippert
52567 Independence Ct.
Elkhart, IN 46514
Email: marcom@lci1.com