Lippert Components Issued Patent for Best Selling Solidstep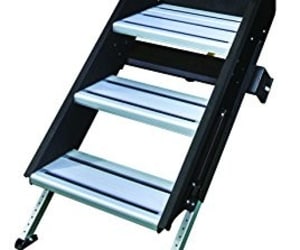 October 5, 2017
Elkhart, Ind. — Lippert Components, Inc. (LCI®) was issued a U.S. patent for their innovative product, the SolidStep. The SolidStep is an RV or trailer entrance step that stores inside the entry door frame instead of underneath the chassis. The SolidStep also extends all the way to the ground, making it the most stable step on the market today.
"Hats off to our development team who have been working hard the past several years to raise the bar on steps for the industry! The launch of the Alumi-Tread entry step a couple years ago was a huge success, and now we're seeing even more excitement over the SolidStep. When the adoption rate of a product moves as fast as the SolidStep, we know that we have developed something that is on target with what the market was looking for!" stated Andy Murray, LCI's VP of Sales for RV Products.
The SolidStep's extendable feet give the product the "no bounce" quality that consumers have asked for. Most competing steps within the RV industry are designed to hang above the ground, without actually touching the ground, making the step more likely to wobble or sway as the RVer enters or exits their coach. Additionally, the SolidStep features a 400-pound capacity and is available in triple and quadruple step configurations.
Due to customer response, LCI just recently released a lift-assist version of the SolidStep that makes the step virtually weightless when it is released to the ground because of a heavy-duty gas strut system that takes the weight off of the step.
LCI's Aftermarket Division has also seen an uptick in SolidStep sales. LCI just recently launched a dealer program, offering a free SolidStep point-of-purchase display with a qualifying purchase. This great sales piece gives the SolidStep presence on the sales floor without taking up a great deal of space.
---
With over 120 manufacturing and distribution facilities located throughout North America and EMEA, Lippert is a leading global manufacturer and supplier of highly engineered components and customized solutions dedicated to shaping, growing and bettering the RV, marine, automotive, commercial vehicle and building products industries and their adjacent markets. Lippert also serves a broad array of aftermarket industries, supplying best-in-class products designed to enhance recreational pursuits, both on the road and on the water. From powerful towing technology and automated RV leveling systems to boating furniture and one-of-a-kind shade solutions, Lippert combines strategic manufacturing capabilities with the power of our winning team culture to deliver unrivaled customer service, award-winning innovation, and premium products to every industry and person we serve.
Lippert
52567 Independence Ct.
Elkhart, IN 46514
Email: marcom@lci1.com