Lippert Components Launches Mylci Product Information Application for Iphone Ipad and Ipod Touch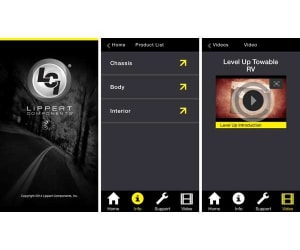 May 29, 2014
ELKHART, Ind. — Lippert Components, Inc. (LCI®) today announced the launch of myLCI, a product information database application for iPhone, iPad and iPod touch. The app provides users with comprehensive product information, photos and videos, as well as customer support material including manuals, components lists and LIP Sheets — Lippert Informational Sheets.
"The myLCI application will allow employees, dealers, distributors and consumers to find the information they need to understand, install, operate and troubleshoot much of our extensive line of products," said Director of Marketing and Media Jarod Lippert. "We believe myLCI will better serve our customers by providing them an easy, on-the-go product information solution."
LCI's Marketing team developed this new product information database, compiling detailed product material and existing Customer Support Services documentation. myLCI offers a clean, modern design, easy-to-navigate responsive functionality and a content-rich database experience. Its product interface allows customers to quickly and easily find product information, with products organized into three main categories: Chassis, Body and Interior.
"We're excited to offer the myLCI app as another customer support service," said Jarod Lippert. "The products included in the first version of the myLCI app were selected based on customer feedback. More products will be added over time, socheck for updates often."
The myLCI app is available for free from the App Store on iPhone, iPad and iPod touch or at www.AppStore.com.
LCI is also developing the myLCI app for Android-based devices. Contact marcom@lci1.com with questions or feedback.
---
From over 140 manufacturing and distribution facilities located throughout North America, Africa and Europe, Lippert™ supplies a broad array of highly engineered components for the leading manufacturers of recreational vehicles, automobiles, watercraft and prefab homes. It also operates in adjacent markets, including hospitality, transportation, construction and agriculture. Lippert™ serves a wide range of aftermarket segments, providing high-quality products for the recreational vehicle / caravanning, automotive and marine industries. With over 12,500 team members and a diverse portfolio of best-in-class brands, Lippert™ adopts a team-based business philosophy and has proven that, by putting people first, the possibilities for growth and development are truly endless.
Lippert
52567 Independence Ct.
Elkhart, IN 46514
Email: marcom@lci1.com