Lippert Components Launches New Responsive Online Rv Parts and Accessories Store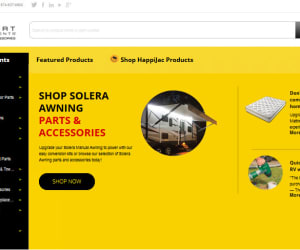 January 22, 2015
Elkhart, Ind. —Lippert Components, Inc. (LCI®) announces the launch of a new, more user-friendly online RV parts and accessories store that is better aligned with the Company's strategic vision for the future, including simple business-to-business ordering for dealers.
"We outgrew the old store platform as we continued to expand our online product offering, so it was time to develop a platform that would accommodate our customers' current needs while giving us room to grow," said LCI Director of Marketing & Communications Jarod Lippert. "We integrated RV dealer feedback into our development process and delivered an online store experience above and beyond our initial expectations, which includes hundreds of new products, faster check-out time and enhanced security."
The new mobile-friendly LCI online RV parts and accessories store features thousands of LCI replacement parts and aftermarket accessories as well as a dedicated HappiJac storefront. The product interface allows customers to quickly and easily find what they're looking for, and product pages offer photos, videos, descriptions and specifications to help customers make the best buying decision. The new platform provides easier access for business-to-business accounts, which makes it easy for dealers to order replacement parts and aftermarket accessories. Online store users can also subscribe to an LCI email newsletter that features deals, exclusive offers and new product details. Additional sections and features are planned for future development to ensure the LCI online store continues to provide a fresh, versatile user experience.
Jarod Lippert described the new LCI online store as cutting-edge, fitting for an industry leader. "We are very excited for this new online RV parts and accessories store and how it will serve our customers better by providing a useful, informative portal where they can buy the products they want, whenever they want."
---
With over 120 manufacturing and distribution facilities located throughout North America and EMEA, Lippert is a leading global manufacturer and supplier of highly engineered components and customized solutions dedicated to shaping, growing and bettering the RV, marine, automotive, commercial vehicle and building products industries and their adjacent markets. Lippert also serves a broad array of aftermarket industries, supplying best-in-class products designed to enhance recreational pursuits, both on the road and on the water. From powerful towing technology and automated RV leveling systems to boating furniture and one-of-a-kind shade solutions, Lippert combines strategic manufacturing capabilities with the power of our winning team culture to deliver unrivaled customer service, award-winning innovation, and premium products to every industry and person we serve.
Lippert
52567 Independence Ct.
Elkhart, IN 46514
Email: marcom@lci1.com