Lippert Components Launches Solera Rv Awning Configurator and Other New Features on Mylci App and Online Store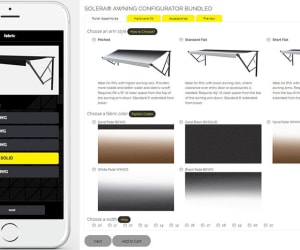 July 22, 2015
Elkhart, Ind. —Lippert Components, Inc. (LCI®) announces the launch of a Solera RV Awning Configurator for its myLCI app and online store that allows dealers to bundle each Solera Awning order into a complete kit.
"Our Solera Awning brand offers a range of features to choose from, including multiple styles, sizes, colors and accessories," said Vice President of Marketing & Public Relations Jarod Lippert. "This innovative product configurator developed by our digital marketing team simplifies the ordering process for customers, giving them a step-by-step guide on how to order all the parts they need to make a complete awning kit, and shows a visual representation of how the awning will look after proper installation."
The Solera Awning Configurator was created to simplify Solera Awning kit orders for dealers. It takes more than 1,500 variable awning kit combinations and automatically narrows the choices down to relevant options, allowing a dealer to easily select product specifications to meet a customer's unique needs. Dealers can choose from multiple sizes; 3 awning arm types; 7 fabric color choices; 2 hardware colors; 3 hardware kits, including manual, power and power with built-in speakers; and optional accessories including an LED light strip and a cradle support.
LCI has also added another feature to its myLCI app that allows a user to make a window replacement claim to Duncan Systems, a business unit of LCI and the official RV glass provider for the Good Sam Club, right from a smartphone or tablet. "If you have a broken motorhome windshield, RV or bus window, you can send your information directly through the myLCI app to the Duncan Systems team," said Jarod Lippert. "A company representative will then contact you as soon as possible to walk you through the process of glass repair or replacement, including insurance claims."
Find the Solera Awning Configurator on the Lippert Components RV Parts & Accessories online store or watch the video for more information. Download the myLCI app for access to the Solera Awning Configurator and Duncan Systems replacement glass claim form. Contact Digital Marketing Manager Michael Rupchock at mrupchock@lci1.com for more information.
---
From over 140 manufacturing and distribution facilities located throughout North America, Africa and Europe, Lippert™ supplies a broad array of highly engineered components for the leading manufacturers of recreational vehicles, automobiles, watercraft and prefab homes. It also operates in adjacent markets, including hospitality, transportation, construction and agriculture. Lippert™ serves a wide range of aftermarket segments, providing high-quality products for the recreational vehicle / caravanning, automotive and marine industries. With over 12,500 team members and a diverse portfolio of best-in-class brands, Lippert™ adopts a team-based business philosophy and has proven that, by putting people first, the possibilities for growth and development are truly endless.
Lippert
52567 Independence Ct.
Elkhart, IN 46514
Email: marcom@lci1.com