Lippert Components Linc Remote System Technology Powers Thor Motor Coachs Rapid Camp for Several of Its Motorhome Brands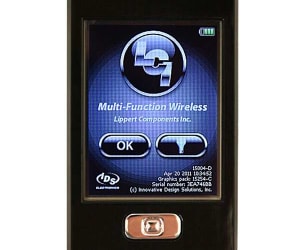 February 11, 2014
Elkhart, Ind. — Lippert Components, Inc. (LCI®) is pleased to announce that Thor Motor Coach is now using LCI Linc Remote System technology for its Rapid Camp™ wireless control system on several of its Class A and Class C motorhome brands.
Thor Motor Coach's Rapid Camp, powered by the Linc Remote System technology, allows users to control the patio awning, slide-out rooms, exterior patio light, leveling jacks and generator from within 50 feet of the motorhome, as well as monitor the progress of each function.
"We recently launched the Rapid Camp wireless system on several brands," said Jon Krider, Thor Motor Coach's Director of Marketing. "It definitely simplifies using the coach for our customers. LCI's Linc Remote System technology provides customers with easy access to their most-used features and allows them to be outside of the coach while operating jacks and slide rooms. " He added, "For instance, if a rain storm rolled in and they were visiting a neighboring coach, they could simply retract the awning using the Rapid Camp without getting wet!"
Rapid Camp is now available on the Hurricane, Windsport, Miramar, Challenger and Outlaw Class A, as well as the Outlaw and F550 "Super C" Class C models.
LCI Body Division Product Manager Chris Ganshorn explained the benefits of the Linc Remote System. "Thor Motor Coach is the first company to use the Linc in a motorhome application, and that's exciting because motorhome users don't have to be standing in the center part of their motorhome to operate multiple functions anymore. Instead, Linc allows them to remotely control key functions from as far away as 50 feet, providing them a more convenient set up they can safely monitor from outside the motorhome."
---
From over 140 manufacturing and distribution facilities located throughout North America, Africa and Europe, Lippert™ supplies a broad array of highly engineered components for the leading manufacturers of recreational vehicles, automobiles, watercraft and prefab homes. It also operates in adjacent markets, including hospitality, transportation, construction and agriculture. Lippert™ serves a wide range of aftermarket segments, providing high-quality products for the recreational vehicle / caravanning, automotive and marine industries. With over 12,500 team members and a diverse portfolio of best-in-class brands, Lippert™ adopts a team-based business philosophy and has proven that, by putting people first, the possibilities for growth and development are truly endless.
Lippert
52567 Independence Ct.
Elkhart, IN 46514
Email: marcom@lci1.com