Lippert Components Now Exclusive Distributor of Floe Integrated Drain Down System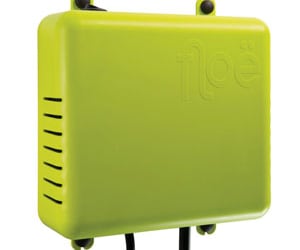 February 7, 2020
Elkhart, Ind. — Lippert Components, Inc. (LCI®) announces today that it is the exclusive distributor of the Floë Integrated Drain Down System. Floë is an industry-first, integrated water drain-down system that lets the RV owner flush out their RV's water system, anywhere, anytime, helping prevent frost damage during winter months.
Floë is designed for RVs, vacation homes, and any other property, static or stationary, that holds drinking and bathing water. If these properties are left vacant during the winter months with water left in the pipes and boiler, frost damage can occur in the water system.
The Floë Integrated Drain Down System provides two main benefits: the first is that an RV owner can drain their unit before the weather becomes really cold, providing peace of mind that the RV is protected, no matter the weather. Floë's second main benefit is that it gives the owner flexibility to use their RV throughout the winter, draining it whenever and as often as they like, without any further expense. Floë provides an easy, convenient way to protect and clean an RV, boat, or any mobile vehicle's freshwater system.
Floë was designed and invented in the United Kingdom by Jason Paul as a simple way to drain his personal lakeside property in the west of Ireland. The Floë AC and DC Induratec systems contain a computer-controlled compression system that pressurizes the system with compressed air, automatically stopping and starting at the correct pressures. Once a faucet, shower, toilet, or any water outlet is opened, the compressed air will push the water out of that outlet until it is dry. Typically, any RV or equivalent can be drained in just a few minutes.
"We are delighted to be working with LCI at this time, and we have worked hard to deliver a world-class product to complement their range of products. We very much look forward to working in the U.S. and Canada and hope that LCI's customers see the benefits and enjoy our product," stated Jason Paul, Floë inventor.
"Floë is an amazing product that adds tremendous value to RV owners. This is the only solution of its kind in the market. We found this product in the European markets selling very well as clean water and clean waterlines are major concerns for retail customers today. We're very excited to offer this simple, convenient, and innovation product to market," said Mark Boessler, Senior Vice President of Aftermarket at LCI.
Floë is available in two power configurations: the 12 Volt DC 636 model or 115 Volt AC 838 model. Floë features easy installation with no dismantling necessary. Floë is NSF 61 and UL verified and approved and is backed by a reliable one-year warranty. In addition to the U.S. and Canadian markets, Floë is available through LCI's distribution and dealer network. For more information, contact your LCI sales representative.
---
---
---
From over 140 manufacturing and distribution facilities located throughout North America, Africa and Europe, Lippert™ supplies a broad array of highly engineered components for the leading manufacturers of recreational vehicles, automobiles, watercraft and prefab homes. It also operates in adjacent markets, including hospitality, transportation, construction and agriculture. Lippert™ serves a wide range of aftermarket segments, providing high-quality products for the recreational vehicle / caravanning, automotive and marine industries. With over 12,500 team members and a diverse portfolio of best-in-class brands, Lippert™ adopts a team-based business philosophy and has proven that, by putting people first, the possibilities for growth and development are truly endless.
Lippert
52567 Independence Ct.
Elkhart, IN 46514
Email: marcom@lci1.com