Lippert Components Offers Innovative New Rv Entry Door Options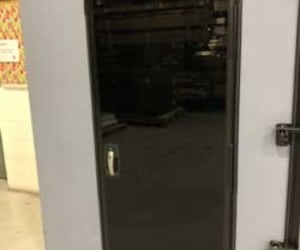 November 14, 2018
Elkhart, Ind. — Lippert Components, Inc. (LCI®) recently unveiled three new entry door options for the RV industry, the G Class Entry Door, Euro Latch, and Screen Shot™. Since entering the RV entry door market in 2009, LCI has brought over 50 new, never-before-seen features and improvements to a product that had been largely disregarded by the rest of the market. Over the past ten years, LCI has focused on improving aesthetics, functionality and ease of use for RV entry doors.
The G Class Entry Door provides a consistent appearance as it utilizes the same styling and glass used in RV side windows. Aside from elevating the coach's aesthetics, the G Class Entry Door features an integrated window and thin shade. The G Class Entry Door features the sleek and modern Euro Latch, an LCI product developed in the United States with European-styling in mind, and is designed to easily incorporate the Screen Shot, an accessory that automatically closes the RV's screen door upon entry and exit.
Utilizing the same glass as the RV side windows, the G Class Entry Door's G20 tinted safety glass helps block powerful UV rays and allows 20 percent of actual light through. The door's main features include a solid exterior, one-piece G20 tinted glass and the modern Euro Latch door handle. The European-inspired Euro Latch comes standard with the G Class Entry Door. The Euro Latch is a European-inspired vertical grab handle that provides the RV owner with a larger surface area and easier use. The G Class Entry Door also comes standard with a motion-controlled hinge, preventing any aggressive motions or swinging of the door.
LCI's Screen Shot has also been recently introduced to the market and is being offered as an additional entry door improvement. Featuring DIY installation, the Screen Shot helps keep the RV's screen door closed by utilizing a spring mechanism that automatically pulls the door closed. Most RV screen doors do not come with a retracting hinge, which allows your door to hang wide open, inviting in pests and detracting from RV's heating and cooling systems. With the Screen Shot's self-closing design, RV owners won't have to worry about closing the screen door.
"As with all of our products, we continually reassess our product offerings based on manufacturer and customer feedback. We believe these new products innovations, the G Class Entry Door, Euro Latch, and Screen Shot, will provide consumers with comfort and ease of use updates that were desperately needed in the entry door market," commented Scott McKinnon, Product Manager at LCI. "Our engineers are constantly thinking outside of the box and developing RV products that are forward-thinking in both design and functionality."
Additional information about these products can be obtained from www.lci1.com/support or by using the myLCI mobile app. Replacement components can be ordered from www.store.lci1.com or by using the myLCI app.
Contact Scott McKinnon at smckinnon@lci1.com for OEM sales information.
---
From over 140 manufacturing and distribution facilities located throughout North America, Africa and Europe, Lippert™ supplies a broad array of highly engineered components for the leading manufacturers of recreational vehicles, automobiles, watercraft and prefab homes. It also operates in adjacent markets, including hospitality, transportation, construction and agriculture. Lippert™ serves a wide range of aftermarket segments, providing high-quality products for the recreational vehicle / caravanning, automotive and marine industries. With over 12,500 team members and a diverse portfolio of best-in-class brands, Lippert™ adopts a team-based business philosophy and has proven that, by putting people first, the possibilities for growth and development are truly endless.
Lippert
52567 Independence Ct.
Elkhart, IN 46514
Email: marcom@lci1.com