Lippert Components Opts Out of Remaining 2020 Trade Shows in Europe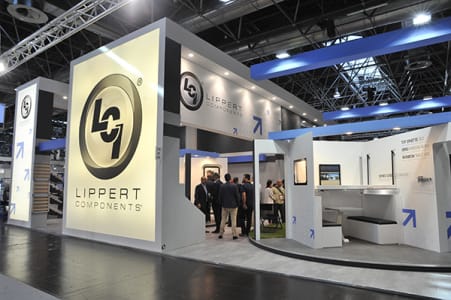 May 18, 2020
Elkhart, Ind. — Lippert Components, Inc. ("LCI"), which supplies a broad array of highly engineered components for the leading original equipment manufacturers ("OEMs") of leisure vehicles and mobile transportation, and the related aftermarkets of those industries, today announced that it will opt out of attending the 2020 Caravan Salon Trade Fair in Dusseldorf, Germany, as well as all other European trade shows, due to the COVID-19 Pandemic. The decision to forgo trade shows also applies to LCI's newest acquisition, Polyplastic, the leading acrylic window supplier to the European caravan industry.
Michele Checcucci, CEO of RV Europe and Jan Peter Veeneman, CEO of Polyplastic issued the following statement:
"This was a very tough decision that LCI had to make, but in the end, it was a unanimous decision between our North American and European headquarters to forgo the rest of this year's trade show events. We are putting the health of our team members first, and with the ongoing pandemic and all of its uncertainties, it simply doesn't make sense to take unneeded health risks at this time."
The LCI RV Europe team has instead decided to build a virtual product showcase where they can give online tours to customers, media representatives, and consumers alike through live, virtual presentations. The opening of this showroom has yet to be determined.
"We are excited to offer our customers the opportunity to connect with LCI whenever it is convenient for them," said Checcucci. "The new virtual product showcase will allow our customers to see exciting new products at the exact point they become available; there is no need to wait for an annual show. The virtual showroom is something that we have always wanted to do, but now the COVID-19 Pandemic has forced the issue. We are excited to service our customers in a whole new way."
---
With over 120 manufacturing and distribution facilities located throughout North America and Europe, Lippert™ is a leading, global manufacturer and supplier of highly engineered components and customized solutions dedicated to shaping, growing, and bettering the RV, marine, automotive, commercial vehicle, and building products industries, and their adjacent markets. Lippert also serves a broad array of aftermarket industries, supplying best-in-class products designed to enhance recreational pursuits, both on the road and on the water. From powerful towing technology and automated RV leveling systems, to boating furniture and one-of-a-kind shade solutions — Lippert combines strategic manufacturing capabilities with the power of our winning team culture to deliver unrivaled Customer Service, award-winning Innovation, and premium Products to every industry and person we serve.
Lippert
3501 County Road 6 East
Elkhart, IN 46514
Email: marcom@lci1.com