Lippert Components Plants Trees for Arbor Day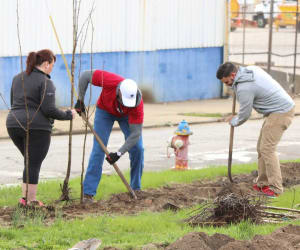 April 26, 2018
Elkhart, Ind. — Lippert Components, Inc. (LCI®), a leading supplier of premium components to the recreational vehicle and adjacent industries, announced today that its team members from its facilities around the United States will spend time planting trees as a part of an Arbor Day celebration.
In a partnership with the City of South Bend's Venues, Parks & Arts (VPA), about 20 team members from LCI Plant 58 will volunteer at South Bend's Kelly Park on April 28, 2018 to help beautify the public space. As part of the Kelly Park beautification LCI team members will be planting arborvitae and boxwood trees. Later, LCI teams, along with their family members, will plant ten trees of various species at Muessel Grove Park, Brownfield Park, Keller Park, Pinhook Park, Riverside Drive, and Oakwood in South Bend.
In total, LCI team members will plant more than 100 trees around the U.S. on Arbor Day.
"By participating in Arbor Day activities, LCI is able to give back to not only the community but also to the environment," said Erin Kent, LCI's Director of Human Resources. "Planting a tree is a small gesture to give back in a way that positively affects everyone."
LCI's Arbor Day tree planting is a part of the Company's larger initiative to give back 100,000 Hours of Community Service throughout 2018.
All media are invited to attend these events. For more information, contact marcom@lci1.com
---
From over 140 manufacturing and distribution facilities located throughout North America, Africa and Europe, Lippert™ supplies a broad array of highly engineered components for the leading manufacturers of recreational vehicles, automobiles, watercraft and prefab homes. It also operates in adjacent markets, including hospitality, transportation, construction and agriculture. Lippert™ serves a wide range of aftermarket segments, providing high-quality products for the recreational vehicle / caravanning, automotive and marine industries. With over 12,500 team members and a diverse portfolio of best-in-class brands, Lippert™ adopts a team-based business philosophy and has proven that, by putting people first, the possibilities for growth and development are truly endless.
Lippert
52567 Independence Ct.
Elkhart, IN 46514
Email: marcom@lci1.com