Lippert Components Promotes Jeff Wysong and Mike Oathout to Senior Leadership Positions Within Emerging Marine Market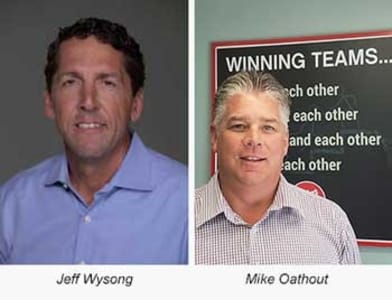 October 1, 2018
Elkhart, Ind. — Lippert Components, Inc. (LCI®) announces today the promotions of Jeff Wysong to Vice President of Sales and Mike Oathout to Director of Sales for the Company's emerging marine segment. As LCI's marine segment continues to grow, the Company is establishing key leadership roles within the marine segment in order to strengthen its commitment and further align with the needs of the marine market.
Through these key positions, the Company plans to streamline its points of contact for customers, while at the same time, create a focused pipeline that will bring all of the Company's marine products to the market.
"My entire business career has always been driven by building relationships with our customers and partners. Striving to develop products and services to meet and exceed our customer's needs is a primary focus of mine. I am excited to step into this new leadership role to further increase the resources LCI provides into the marine marketplace," said Jeff Wysong.
Jeff Wysong came to LCI through the Lexington Seating acquisition in 2017. His more than 15 years of experience in the marine market, working on product development and building strong customer relationships. Wysong will work with the Company's executive teams to identify customer needs and support industry growth.
Oathout came to LCI through the Taylor Made acquisition in January 2018. He has been with Taylor Made for 30 years and has overseen this critical role for 18 of those years. Using his solid customer and manufacturer relationships within the powerboat and glass sectors, Oathout will continue to drive product improvements and foster key customer relationships. Oathout began his career with Taylor Made in 1987 and was promoted to Taylor Made's Vice President of Sales in 2000.
"I'm excited to begin this new venture, supporting a larger portion of our business model while continuing to support our marine fabric and glazing systems. I'm most excited about the potential of our marine furniture capabilities as we continue to supply the growing demand within the marine market." said Oathout.
"As we gain momentum in the marine market, it was appropriate to align dedicated senior leadership positions with our efforts. With the recent acquisition of Taylor Made, we have a very strong team supporting the marine industry, and are now looking to equip that team with a larger arsenal of products, while at the same time making our customers' lives easier by allowing them access to more products from a single point of contact," said Andy Murray, Chief Sales Officer at LCI.
Jeff Wysong can be reached at jwysong@lci1.com
Mike Oathout can be reached at moathout@taylormadesystems.com
---
From over 140 manufacturing and distribution facilities located throughout North America, Africa and Europe, Lippert™ supplies a broad array of highly engineered components for the leading manufacturers of recreational vehicles and prefab homes. It also operates in adjacent markets, including marine, bus, industrial vehicles and trains. Lippert™ also serves a wide range of aftermarket segments, providing high quality products for the caravanning, automotive and marine industries. With over 15,000 team members, and a diverse portfolio of best-in-class brands, Lippert™ adopts a team-based business philosophy and has proven that, by putting people first, the possibilities for growth and development are truly endless.
Lippert
52567 Independence Ct.
Elkhart, IN 46514
Email: marcom@lci1.com