Lippert Components Promotes Julie Bethel Welker and Matt Clauss to Distribution National Sales Manager Roles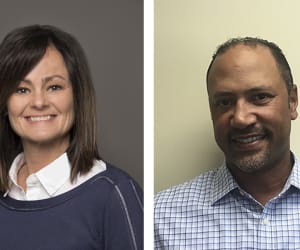 August 30, 2017
Elkhart, Ind. — Lippert Components, Inc. (LCI®) announces two promotions within the Company's Aftermarket Division. Julie Bethel-Welker has been promoted to the role of Distribution National Sales Manager. Julie will be the point of contact for all Warehouse Distribution on LCI products. Julie will work hand and hand with Stephan Lussier, LCI's Aftermarket Managing Director to train and market all of the LCI aftermarket components through distribution.
Mark Boessler, LCI's Vice President of Aftermarket Sales stated, "Julie is a true professional that has effectively driven our sales through distribution and has garnered great respect within the WD community. With Julie and Stephan leading the charge, we are in a great position to grow our team within." Julie has been with LCI for almost three years in the Aftermarket Division and was the Distribution Manager prior to the promotion.
"I'm excited to work alongside Mark Boessler and Stephan Lussier, to promote growth and create solid partnerships with our wholesale distributors," said Bethel-Welker.
Matt Clauss has been promoted to the role of National Sales Manager, Aftermarket Outside sales. Matt will be in charge of the eight total reginal sales managers in North America that are training and selling to dealers every day. With the growth we have had in the aftermarket, Matt is looking for additional experienced RSM's to add to his team today. Matt will be responsible for driving sales to warehouse distribution through dealerships and dealers sales on all the LCI Aftermarket products.
Mark Boessler stated, "Matt has been with LCI for over three years and has built a solid foundation in dealing with dealerships across the country. Matt is experienced in all LCI products and will help grow the level of service to dealers though the RSM's."
Clauss, who formerly worked as Distribution Sales Manager within LCI's Aftermarket Division, will now manage the Aftermarket outside Sales team as a part of his new role, working to improve and enhance LCI's product distribution within relevant marketplaces.
"I'm thankful and blessed to have the opportunity to work with such an amazing team. Together, we are going to take the Aftermarket Division to new heights," commented Clauss.
To contact Julie Bethel-Welker, email jbethel-welker@lci1.com
To contact Matt Clauss, email mclauss@lci1.com
---
From over 140 manufacturing and distribution facilities located throughout North America, Africa and Europe, Lippert™ supplies a broad array of highly engineered components for the leading manufacturers of recreational vehicles, automobiles, watercraft and prefab homes. It also operates in adjacent markets, including hospitality, transportation, construction and agriculture. Lippert™ serves a wide range of aftermarket segments, providing high-quality products for the recreational vehicle / caravanning, automotive and marine industries. With over 12,500 team members and a diverse portfolio of best-in-class brands, Lippert™ adopts a team-based business philosophy and has proven that, by putting people first, the possibilities for growth and development are truly endless.
Lippert
52567 Independence Ct.
Elkhart, IN 46514
Email: marcom@lci1.com