Lippert Components Provides Customer Service Product Maintenance Seminars at Forest River Owners Group Rally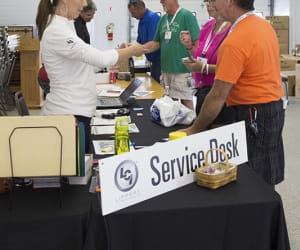 August 26, 2015
Elkhart, Ind. —Lippert Components, Inc. (LCI®) serviced more than 200 RVs during the fourth annual Forest River Owners Group (FROG) International Rally at the Elkhart County Fairgrounds during the week of August 9-15. LCI also performed many upgrade product installations throughout the week at its Goshen Service Center and led four interactive and educational product seminars.
Forest River Owners Group Director Bob Byrne was grateful for LCI's participation at the rally. "LCI is right there at the forefront of our service initiative," said Byrne. "LCI's outstanding service team worked side by side with Forest River technicians to answer questions, troubleshoot and solve issues and educate FROG members on many of the wonderful features and accessories on their RVs. LCI's participation at this year's rally was bigger than ever before, with an impressive display of exciting product upgrades and a commitment to listen to customer feedback and provide hands-on product demonstrations."
LCI's Aftermarket and Customer Service teams, the Lippert Electronics group and The RV Doctor Gary Bunzer led seminars and gave product presentations for attendees on a range of LCI products, including slide-out mechanisms, automatic leveling systems, pin boxes, suspension upgrades and remote control systems. Some of LCI's most popular upgrade products this year included the JT's Strong Arm Stabilizer, Flex Air Pin Box and Waste Master. LCI representatives were on hand all week to answer questions, provide safety tips and get feedback from customers on products.
"With around 700 RVs on site, LCI's partnership was essential to delivering exceptional support to so many customers," said Leo Akins, Director of Codes & Standards and Quality Control at Forest River. "It's clear that their top priority is customer satisfaction — they really listen to customer feedback and are always looking to improve the customer's experience. We simply could not have done it without them."
---
From over 140 manufacturing and distribution facilities located throughout North America, Africa and Europe, Lippert™ supplies a broad array of highly engineered components for the leading manufacturers of recreational vehicles, automobiles, watercraft and prefab homes. It also operates in adjacent markets, including hospitality, transportation, construction and agriculture. Lippert™ serves a wide range of aftermarket segments, providing high-quality products for the recreational vehicle / caravanning, automotive and marine industries. With over 12,500 team members and a diverse portfolio of best-in-class brands, Lippert™ adopts a team-based business philosophy and has proven that, by putting people first, the possibilities for growth and development are truly endless.
Lippert
52567 Independence Ct.
Elkhart, IN 46514
Email: marcom@lci1.com