Lippert Components Teams Up With New England Rv Dealers Association to Provide Regional Technician Training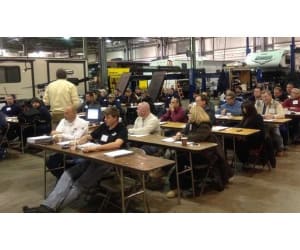 February 5, 2014
Goshen, IN — Lippert Components, Inc. (LCI®) partnered with the New England RV Dealers Association (NERVDA) to provide technician training on Dec. 10-11, 2013, at Flagg RV in Uxbridge, Mass., and Campers Inn of Merrimack, NH.
Over two days, LCI Dealer Relations & Technical Publications Supervisor Rik Burgoyne trained 80 technicians on LCI products and systems, including In-Wall Slide-outs, LCI Through-Frame Slide-outs, leveling and stabilization systems and electronic products.
"We want every technician to understand our products as well as we do," said Burgoyne. "This comprehensive training answers any questions technicians might have and allows us to teach consistent installation and maintenance techniques."
NERVDA Executive Director Bob Zagami said he appreciated LCI's high level of expertise and said he received positive feedback from technicians who attended the training. "We consider this Lippert training to be a resounding success. Attendees enjoyed the sessions and appreciated having it so close to home." He added, "Well-trained technicians keep customers satisfied by diagnosing issues earlier, repairing units faster and answering operational questions thoroughly. A good service experience creates loyal customers who come back for future maintenance and product purchases."
After the successful December training, LCI and NERVDA are planning another training session early in 2014. LCI also anticipates working with other dealer associations across the United States in the future to provide fundamental training to technicians in other areas.
LCI Vice President of Customer Support Services April Klein believes training sessions like these will produce a strong technician network across the United States. "Training dealer technicians is one of the most important things we can do to support our OEM customers. We trained more than 1,400 technicians in 2013 and look forward to trying to exceed that number in 2014."
Anyone interested in scheduling a training event on LCI products can contact Holly Nater in LCI Dealer Relations at 574-312-7434 orhnater@lci1.com.
**About New England RV Dealers Association: **NERVDA is the only multi-state dealer association in the country. Dealers throughout New England work together to promote the RV lifestyle and service the needs of their customers. NERVDA is the sponsor of the New England RV & Camping Expo that is produced by the Paragon Group of Needham, MA. The 2014 Expo will be held at the Boston Convention & Exhibition Center Jan 18-20. In 2014 NERVDA is planning to produce a monthly regional technician training programs for their dealers. They will also be launching a consumer web site after the first of the year.
---
From over 140 manufacturing and distribution facilities located throughout North America, Africa and Europe, Lippert™ supplies a broad array of highly engineered components for the leading manufacturers of recreational vehicles, automobiles, watercraft and prefab homes. It also operates in adjacent markets, including hospitality, transportation, construction and agriculture. Lippert™ serves a wide range of aftermarket segments, providing high-quality products for the recreational vehicle / caravanning, automotive and marine industries. With over 12,500 team members and a diverse portfolio of best-in-class brands, Lippert™ adopts a team-based business philosophy and has proven that, by putting people first, the possibilities for growth and development are truly endless.
Lippert
52567 Independence Ct.
Elkhart, IN 46514
Email: marcom@lci1.com