Lippert Components to Host Company Picnic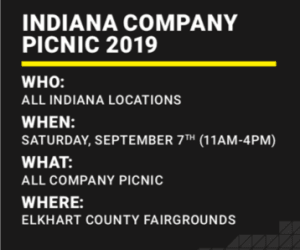 September 5, 2019
Lippert Components, Inc. (LCI®) is hosting a company picnic on Saturday, September 7, 2019 at the Elkhart County 4H Fairgrounds. LCI team members from all of the Company's Indiana-based facilities, as well as their immediate family members, are invited to attend from 11am-4pm EST. A variety of activities, games, food, and prizes will be offered to event guests.
"We host events throughout each year to show thanks to our hardworking team members and to celebrate the Company's achievements," said Jaycee Galarno, LCI's Director of People Support and Services. "With more than 7,000 team members working out of our Indiana facilities, we wanted to provide an all-out experience that they can enjoy with their families and co-workers."
LCI's company picnic will feature a variety of activities, including:
Inflatables & Carnival Games
Rock Walls
Photo Booths
Disney Princesses
Butterfly Exhibit
Magician
Salsa Dancers
3x3 Basketball Tournament
Cornhole
Fire Trucks & Fire Safety Education
LCI Championship Soccer Game (Men & Women)
Flag Football
Goshen Health Education Exhibit
Benefit Vendor Representation
Acts of Service
Nonprofit Booths & Volunteer Opportunities
And MUCH, MUCH more!
"We have over 13,300 total RSVPs, with just under 4,000 of those being LCI team members, and about 25-50 local high school students, along with some LCI team members, will volunteer during the event to help things go smoothly," said Galarno.
This will be the Company's first time hosting all of its Indiana divisions at one company picnic. In the past, each division held their own yearly picnic. "This way we can all enjoy the event together and we hope the event will bring people together from our many divisions," stated Galarno.
LCI's company picnic will feature two live entertainment stages and over 1,000 different prizes and giveaways. LCI would like to thank the more than 100 partners who've helped make this event possible.
---
From over 140 manufacturing and distribution facilities located throughout North America, Africa and Europe, Lippert™ supplies a broad array of highly engineered components for the leading manufacturers of recreational vehicles, automobiles, watercraft and prefab homes. It also operates in adjacent markets, including hospitality, transportation, construction and agriculture. Lippert™ serves a wide range of aftermarket segments, providing high-quality products for the recreational vehicle / caravanning, automotive and marine industries. With over 12,500 team members and a diverse portfolio of best-in-class brands, Lippert™ adopts a team-based business philosophy and has proven that, by putting people first, the possibilities for growth and development are truly endless.
Lippert
52567 Independence Ct.
Elkhart, IN 46514
Email: marcom@lci1.com